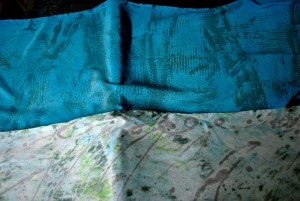 or out.  This is after I waited a day for the scarves to dry and cure. Here is the before I did the washout.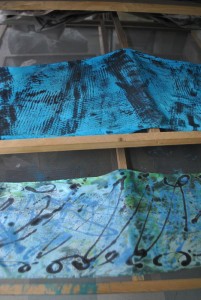 This was a big disappointment to me. I think the black and the blue deColourant are a bust. I think I will just try to do an overdye of them now and try to rescue them that way.
I have not had a good day. I have a cold that is moving to my lungs so I have to be careful. I found out that the daughter of my good friend, Suzy, died from an apparent heart attack on Wednesday. She was only 45. The heartache for people I care about continues. My intrepid BIL, with leukemia, loves hunting and so he is going out with his buddies today and tomorrow. I hope he has a great time.
Now, to watch a movie with Mr C and attempt to felt some ornaments.