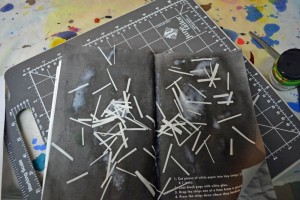 I finished my landscape for the next Twelve x Twelve reveal. Check that off the list!
Last night, I met Terry Grant for an early dinner and then we went to a High Fiber Diet meeting. We had a very interesting discussion about what makes a quilt art, finishing work for a show — sleeves, labels, etc. We also discussed the need to mount professional shows which means it sometimes does not seem fair because a lot of work does not make the cut.
I took a few copies our our new book and sold four of them. I have a link to buy an autographed copy in the menu on the right. Click on that and it will take you to a page and then to Paypal. I plan to include a piece of mini art with each book that is purchased.
That photo up there is one of the activities in a book that the STASH group is working through, Mess: the manual of accidents and mistakes.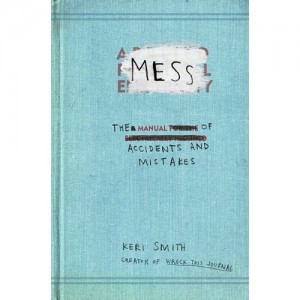 It is  a wonderfully silly book. I have been way behind the others in the group and I did not want to show up tomorrow without something to show for it. For the exercise at the top, we were to slather the page with glue and drop small slivers of paper and let them land where ever.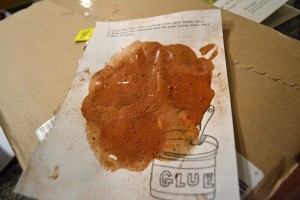 For this page, we were to drizzle something sticky, such as glue or honey and then pour a powdery substance on it and blow or shake off the excess. Mine is glue and cocoa powder.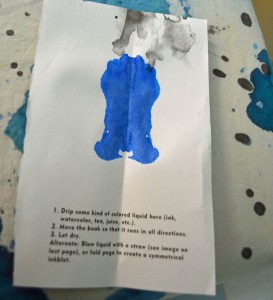 For this, we had to drop some ink or other color liquid and let it roll around the paper or do an ink blot. I did the latter.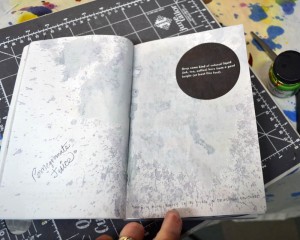 This page has pomegranate juice poured from 5 feet above the page.
For me, this was just plain fun. I think it is a great way to loosen up and get rid of your inhibitions. I really had fun.
I am working on a big piece for a juried invitational show. I have the batting cut. I am working on creating some of Portland's bridges on lutradur, which I will paint, once they are cut. Can't say too much about this.
So, tomorrow, I am off for some fun with my STASH friends.