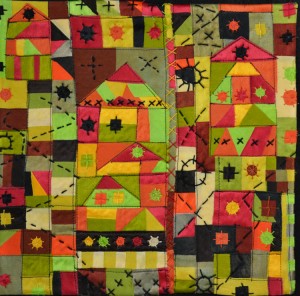 I finished Klee's Castles and I just need to add a label and a sleeve and send it off for the SAQA auction. I had a lot of fun adding the details to this. Here is a detail shot.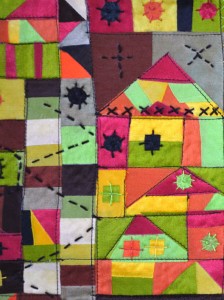 I finally got the latest fabric frenzy cleaned up and stored. I have a bag of large fused silk scraps and a bag of smaller pieces.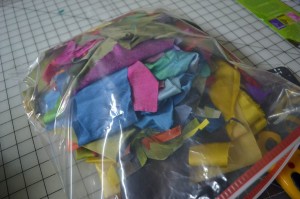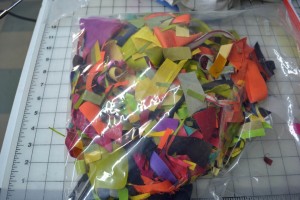 I can't bear to throw out the smallest of scraps. They are great for making small works like fabric postcards. I am happy that the studio is neatened and I can start my cityscape this week-end.
We have had some half way decent weather today. It was chilly but mostly sunny and no rain. It is amazing what some sunshine can do to lift your spirits.
Tomorrow, Terry Grant and I are going to the Clark County Quilter's show in Vancouver, WA. We will be selling and signing the Twelve by Twelve book and showing the colorplay quilts that we have revealed on the blog, so far. I am looking forward to the meet and greet and to see some quilts and maybe spend some money at some of the vendors.