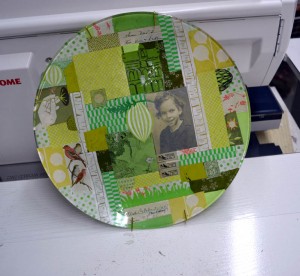 Lisa arrived yesterday, and she always brings many rays of sunshine into our lives. We went food shopping and made a hearty soup – vegan version for her-, and enjoyed supper with the whole Portland clan. I have a special cabinet that is down low where I keep special dishes for  M & M. I asked Miles to get cups out for sparkling apple juice for the two of them. When we went into the dining room, he had set Lisa's place with the Hello Kitty dishes that I have had for Mia since she was a baby. He is a little comedian!
The plate up there is a collaged plate that Lisa did a while ago and featured on her blog. I think she had a how to make it article in a magazine. Anyway,  that is a photo of me when I was a little girl. I was very happy when she gifted me with it yesterday.
She also brought me a copy of her book, "A Collection a Day". It comes in this collectible tin – isn't that smart marketing?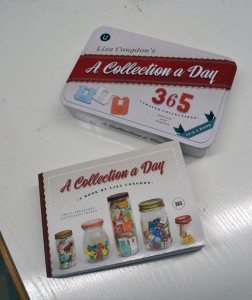 The book is not that big, but every page is a wonderful photo. Well, there are some text pages — an essay by Lisa about her creative life was fun to read. Apparently, I was a pretty good Mom and provided a creative place for my children. Tomorrow night, she has a book signing at Land in N. Portland.
Today, she gave a lecture at Portland State in the art department. She had a really cool powerpoint presentation. I was thrilled when she introduced me and said that I am also an artist. She has had an amazing journey, going from a part time artist working in the field of education to becoming a full time artist/illustrator with an agent. I think she really inspired the students today.
I spent a little time in the studio testing some of the deColourant colors that I have. What a difference the heat gun makes. These samples have been heat set and washed.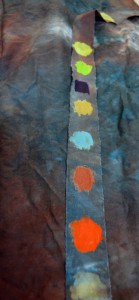 I am thinking of doing another piece using some of these colors.