These are the working titles for my latest pieces. I finally had an epiphany for the binding of the ink shibori piece. I had just barely enough pink shibori left to piece a very narrow binding. I think it really works. Thank you to those who e-mailed me privately that you like this piece. I don't ordinarily work with pink, but here is the think about me and fabric and color. When I find a combination of colors and fabrics that just work together, I get excited and off I go. I think thee is someone out there who would love this piece in their home. I stained a piece of bamboo with green paint which I will use for hanging this. Here is a closeup of the binding.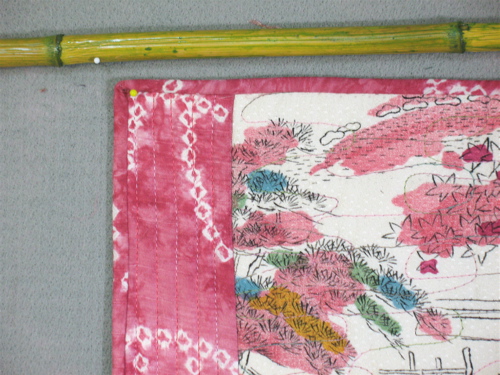 Here is the full piece: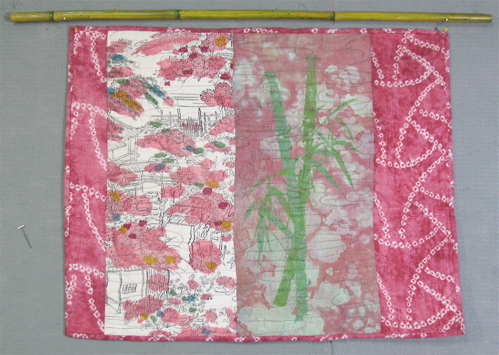 At our STASH meeting, Gale had a great idea to use a motif from the small print fabric on the bamboo section, which is what I did. I have fused this piece to felt so that I would not have to do a lot of quilting. I used one of my fancy machine stitches where the fabrics come together. Here is a closeup.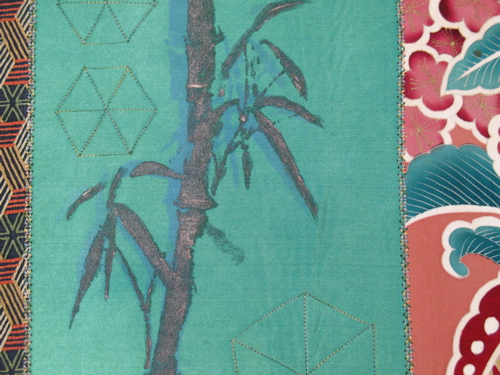 Here is the piece which I have cropped. It still needs to be squared up and the edge satin stitched.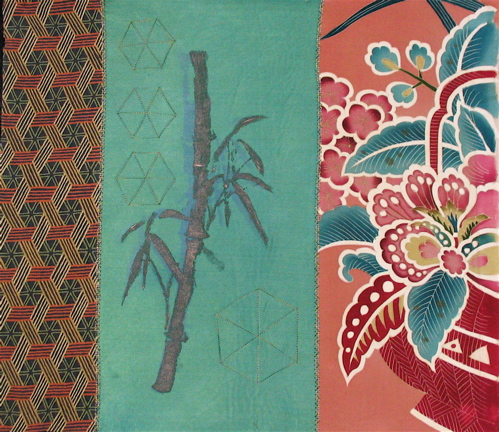 Once the edge is done, I am going to do some Japanese fabric collages and post cards. I also need to get cracking on my Journal Quilt for the IQF show in Houston. I think it needs to be done by September. Then I need to start work on a piece for an invitational show, titled, It's Good to be Green. That will be done in recycled green Japanese textiles.
Yesterday, we had family dinner. We grilled chicken sausages from New Season's market with sweet corn and wild rice salad. Steph has a great way to serve sweet corn. Cook the corn, melt some butter, pour it in to a plastic bag with some fresh squeezed lime juice, add the corn and shake — voila, instant buttered corn. I had mine with a spritz of fake butter and lime juice.
This is the second time that I have made this wild rice salad. It is so good and so healthy. Here are the green beans sauteing in olive oil and garlic.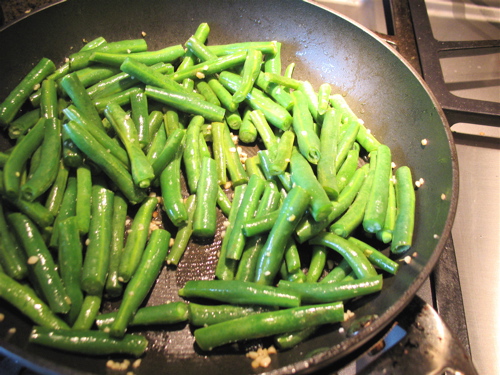 Here is the recipe:
3/4 cup wild rice cooked according to package directions.
1 cup green beans, cut in two inch lengths
1 clove chopped garlic
1 tbs. olive oil
1/2 cup dried cranberries
1/2 cup red pepper, diced
1/2 cup cucumber, diced
1/2 cup fresh basil, chopped
1/4 cup flat leaf parsley
1/2 cup pistachios
1/4 cup lemon juice
1 tbs. olive oil
salt and pepper to taste
Cook rice. Cool to room temperature.
Saute garlic in olive oil for 1 minute. Add green beans and cover and cook until tender. Cool to room temperature.
Mix cranberries, red pepper, cucumber, basil, parsley and pistachios in a bowl. Add rice and green beans. Mix in olive oil and lemon juice. Season to taste with salt and freshly ground pepper. (You may use more olive oil, but I like the lighter taste of lemon juice.)
Here is the salad before adding rice and green beans.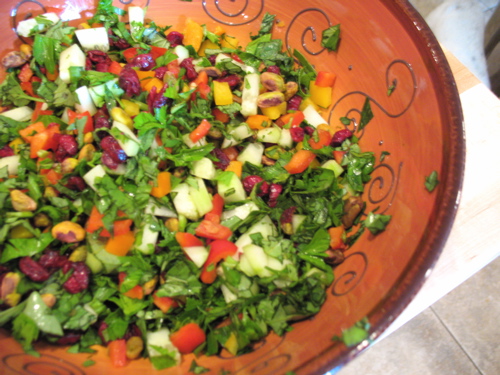 And finished: