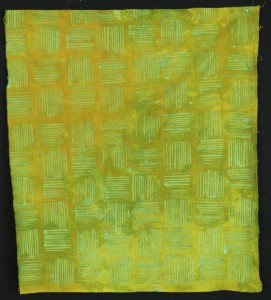 Multi-tasking is my middle name. I gave up on discharging this fabric. Instead, I used a Stencil Girl stencil with irregular lines to print. I experimented with some different paints and ended up with Jacquard's Lumiere Halo Blue Gold. It was the effect that I was going for. This photo is not that good. It is hard to photograph metallic paints, I think. Anyway, I am happy with it.
Mr C has been busy. He spackled the nail holes from the wall where I had hung my crosses. Then, it got a fresh coat of paint. It looks pretty bare. We will put the mirror back up and maybe some generic art.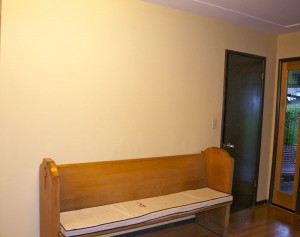 That bench is a church pew that was gifted to us by our church in Wilmington, NC. We help to fund the redoing of the altar and a new organ. They had too many pews for the new space. It is one of those things we may have to give up.
Today, I wrapped gifts, which I do not enjoy doing. This one was pretty easy. I had a black box and I used Washi Tape to decorate it. Perfect for the architect in the family.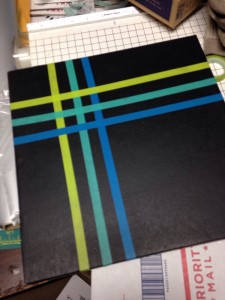 After a quick trip to Trader Joe's this afternoon, I set about baking some goodies for the Christmas Eve meal — the traditional chocolate mint brownies and two gluten free recipes for me — pecan tassies and Girl Scout Samoa cookies. I still have to do the chocolate dipping and caramel/coconut top for the cookies.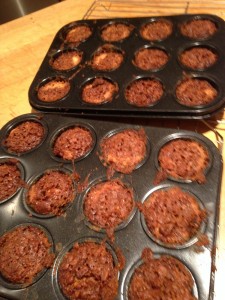 Tonight, we went to the local Paleo restaurant near us. They brought me this tumbler of wine, which I enjoyed. A little boy came over to our table and asked if he could have the dinosaurs. I told him I was finished playing with them. He looked at me quizzically and then grinned.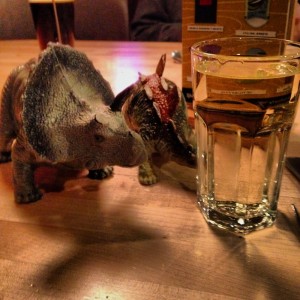 And so tomorrow is Christmas eve. I am doing dinner here and Steph is doing Christmas Day dinner. I think she is making tamales.
Then, the crunch begins. More decluttering and organizing and cleaning. I move into my new little studio space the first week of January. It is both exhilarating and exhausting just to think about it.