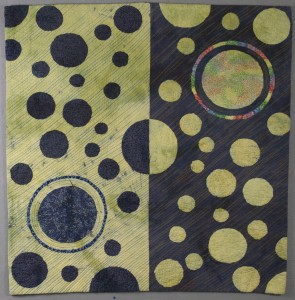 I got the fat e-mail today telling me that this piece, Alternate Universe, was juried into the SAQA show, I'm Not Crazy. It was juried by Sue Reno and curated by Kathy Nida, both very talented fiber artists. I am very honored.
I started this piece over a year ago when the psycho politics of this country was driving me crazy, and I felt as if I had awakened in an alternate universe. It has lots of hand stitching. The design was discharged using a design drawn on freezer paper with the circles creating one side and the holes used for the other side. I tried to show another universe which was in reverse and upside down. I spent a lot of time on this and never really thought of entering it in a show until this theme came up.
I am feeling a bit better tonight. I didn't get much done today, but Mr C is home to keep me company and so I am feeling much better. We have 11 people for dinner tomorrow night – have to feel better.
Here is today's 3 x 3: