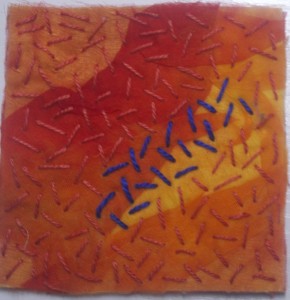 Being retired, Monday holidays just confuse my life!!
This 3 x 3 is a hand-dyed silk organza that I folded and hand stitched in place. I don't think my photo captured the texture of the scrunched organza.
Here is the other 3 x 3 for today.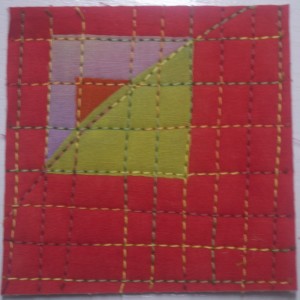 It is fun to be working with a new color.
Today, I delivered a quilt to the quilt shop in Lake Oswego for the Quilt Expo coming up. All 288 of our 12 x 12 quilts will be on display. One of the coordinators wants Terry and I to do a bit with one of the local (sort of wacky) morning tv guys. He goes out to venues and takes part in some way. The premise is to help him make his own 12 x 12 quilt. Mind you, this will take place early in the morning – like 4 or 5 am.
I spent some time working on my kelp/water piece. I have to figure out how to arrange these and maybe add a little pizzazz.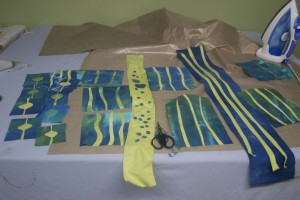 I need to make a few more blocks, but it is coming along.
We have been glued to the tv since 5 pm when coverage of the DNC convention started. It was an amazing night – as one commentator said — an embarrassment of riches. I enjoyed every speech. As my daughter said on Facebook, these are my people!