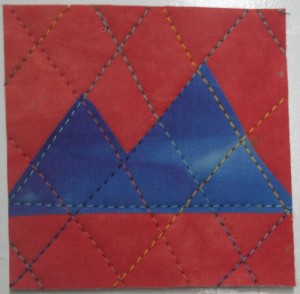 I did it. I muddles through the day. I did some SDA work. I took Scooter for a walk in the Rhodie Garden and I picked up my CSA veggies.
I also got the quilt show paperwork done and got labels, hangers and bags done for the Rhythm and Hues show. I need to turn everything in tomorrow.
It is the quarterly meeting of Columbia Fiberart Guild tomorrow and our guest speaker is the eloquent Elizabeth Barton. It has been my quest for some time to get her on our program. She is teaching a two day workshop on Thursday and Friday — Working in a Series.
I still don't have my stuff ready for the workshop – that will have to happen tomorrow afternoon.