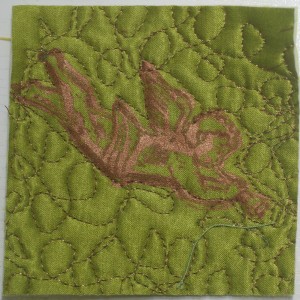 We have been having a wonderful time with the family here for the holidays. Paige Ada has added so much joy and fun to our celebration. She arrived with a cold and ear infection and on antibiotics, but has been such a happy little girl through it all.
This was the calm before everyone arrived.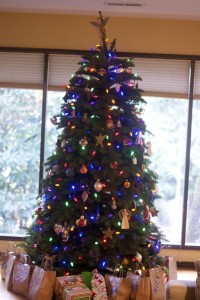 I had purchased some baby friendly toys for Paige and she loved knocking over a tower of the soft blocks. She is so fast on her hands and knees, now.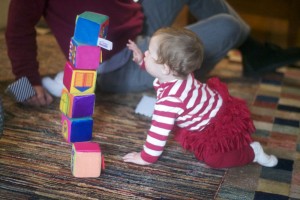 Don't you just love the little tutu? She loves Scooter and chases after him and sneaks up behind him and grabs his tail. He is a little frightened of her, but she is not scared of him, one bit. So cute.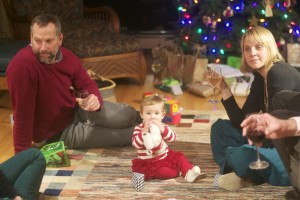 Later in the day, the Portland family arrived. Here is Paige with her Daddy and Aunt Stephanie.
Here is beautiful Mia with her new asymmetric hair cut. She is 5′ 9″, now.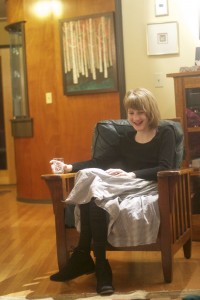 Paige was quite taken with her cousin, Miles and climbed onto his lap. He didn't know quite what to do with her.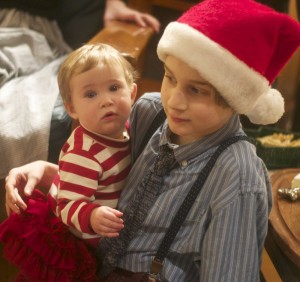 She quickly got into the whole idea of opening presents.
It was a wooden ring game from the Portland cousins.
Another photo of the cutie, Miles.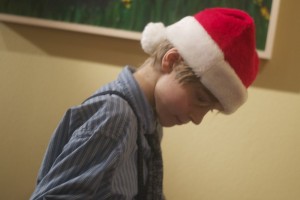 We gave her this small version of a Radio Flyer wagon. She enjoyed going for rides in it.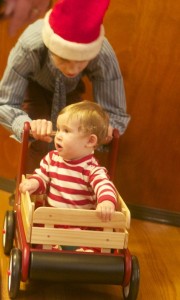 In the morning, she got to see what was in her stocking.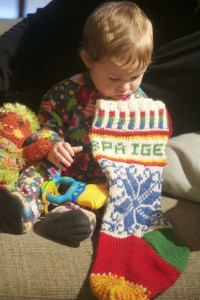 She really liked the knitted dolly that a friend of mine made.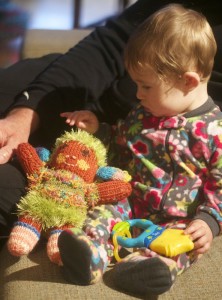 And then, she promptly fell asleep with it.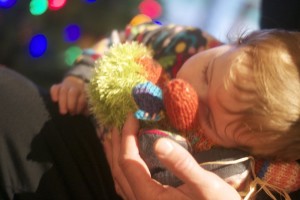 Later, we went to  Stephanie's for a delicious brunch. She set up a little play area for Paige with the heart quilt that I made Mia about 10 years ago.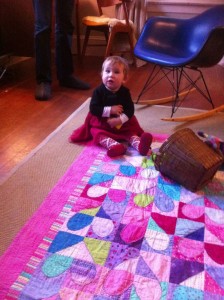 We made a big dinner for the family back at our house with beef tenderloin and delicious side. Stephanie made brioche which was delicious.
This was taken when she woke up from a nap this afternoon. Love those big blue eyes.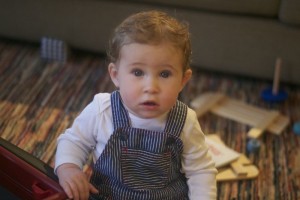 Lisa and Clay and Wilfredo arrived safely today and didn't have any trouble with snowy or icy roads. We all went out for Vietnamese food – which works for the meat eaters, the vegans, and the grandkids who love Asian noodles. Then we had another Christmas, opening gifts with them. I got some great stuff, which I will share in a later post.
The bags that I created for everyone contained a black or navy blue J. Crew sweater. I hope to get a photo of the whole family wearing them. Paige and I are the only ones who don't have one. They don't make them large enough for me or small enough for her so we will fake it.
Here is yesterday's 3 x 3. I am running a bit behind.