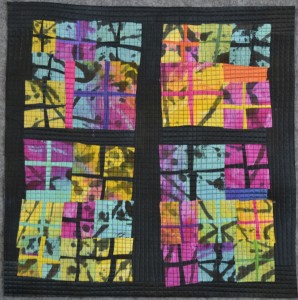 The cruciform piece is finished except for the edges. I am thinking of framing it so I am holding off on the final edge finish until I see if that is feasible.
I started adding some beads to the Undulations piece. I found some very organic beads that would integrate well with the piece and not really stand out. However, now that I look at the charcoal beads, I don't like them so they are coming off and I am going to stick with the dusty pink ones.
Today was a good day because I finally got to hang out with my STASH friends (Second Thursday at Someone's House). I have missed at least 3 meetings because of my crazy life. I made 3 delicious salads for lunch and some almond bread. It is a non-gluten bread with almond flour, eggs and a bit of honey. It is very dense and moist, but was enjoyed by all. For dessert, I made parfaits in wine glasses, layering fresh berries with Balsamic syrup and culture coconut milk. It was an experiment and very good.
I received this thank you post card in the mail today.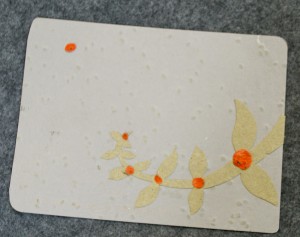 It is from one of the young fiber artists here in Portland who needed some help funding a residency. I contributed to her Indie request. The postcard is embedded with clover and poppy seeds so it can be planted. I have some room in the center of one of my raised beds behind he house so I am going to plant it there. I'll let you know how it does. If you click on the photo, you can see the little seed bumps.
When I was shopping yesterday, I saw these lilacs in the flower shop. I brought them home and our home is filled with their aroma. It brings back such good memories of my childhood and the lilac bushes that always signified the coming of summer.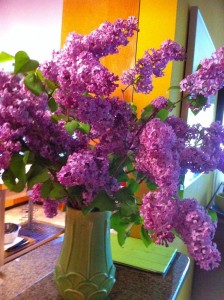 I have some busy days coming up as I finish my own work for the Artists Among Us exhibit. I got a good start on name badges tonight. Next, I have to print labels and bar code stickers for all the art. Monday is check in day. The producer of the Quilt Show.com called me today and wanted me to do a segment for the show on my stitching and shrinking project, but they are filming next week-end when Quilt Market is in town and I am too busy to fit into their schedule. They are going to keep me in mind for future shows. She was interested in my 3×3 project, too. Interesting fact, the producer lives here in the Portland area, and she is not a quilter.