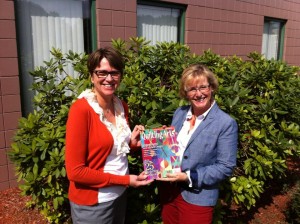 This morning, I found a message on my Face Book page from Vivika DeNegre, editor of Quilting Arts. It had two photos, the one above and this one: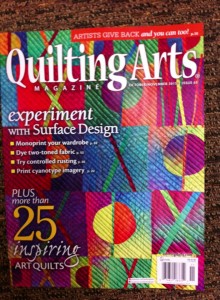 That is my Hugs and Kisses (XXOO) quilt on the cover of the next issue. Way back when, I  was asked to send my quilt to Quilting Arts for an article about the new Dinner@8 exhibit, An Exquisite Moment. They would then ship it to California for the Long Beach show.
About a month ago, the phone rang and I saw Vivika's name in the caller ID and my heart went pitty pat. She called to tell me that the quilt would be on the cover and said some really nice things abut it. But, I couldn't say anything until now. I am very excited as I have never been a cover girl before!!
The other piece of news is about a new group that I was invited to join, The Printed Fabric Bee. We are going to be a FaceBook group and reveal our projects on our public page.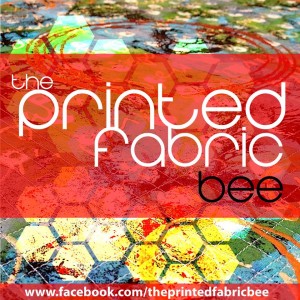 The Printed Fabric Bee is a collaboration of 10 professional textiles artists printing fabric collections for each other. Each month a member of the group chooses a theme, making her the Queen, and the members of the Hive create a piece of fabric based on her choices. In the end, each member will have a collection of custom made fabric made by all the members of the Hive. Here are the other members and links to their websites.
Lynn Krawczyk
Julie B. Booth
Leslie Riley
Carol R. Eaton
Jackie Lams
Lisa Chin
Susan Purney Mark
Lynda Heines
Pokey Bolton
I hope you will visit our FB page and like us and follow along. Lynn is the first Queen and she wants orange circle.
The other exciting thing for today is that Lisa finally got a link to photos from the wedding. I can't show any with them in it yet, but here is one of Mr C and I which I quite like.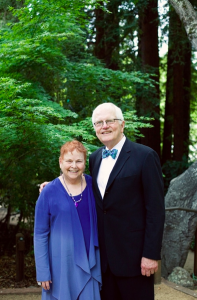 OK, as if this were not enough excitement, tomorrow afternoon, I am picking up Jane Dunnewold at the airport and get to spend a few days with her. She is giving a lecture at my guild on Wednesday and teaching a workshop on Thursday and Friday. On Thursday night, we have our local SDA meeting with her. She is the current president of the board.
So, if you don't hear from me for a while, you know why!