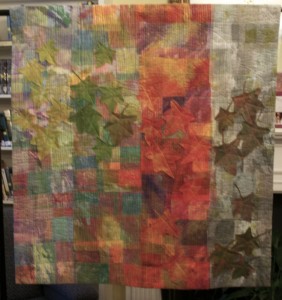 It has been a week since our critique group met. I have been busy, busy. Here is Taking Leaf of My Senses redux. I like it so much more. I need to take some yellow paint to the fall leaves as they are not showing up as well as I would like.
Here is Flight Through Sky Blue Pink redux. I lopped off the top so that the pink cheesecloth area is not in the middle. I think it works much better. You can click on either image to see them larger.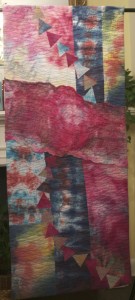 I met with the church ladies in Albany on Monday. I thought I was a go to get the commission and then I got an e-mail from them saying that the church requires to submissions so they were meeting with a second artist this week. Then they will take both proposals to the board  next month to make the final decision.
I received my copy of Women Who Come to the Table this week. It is a book about the Dinner at Eight exhibits that Jamie Fingal and Leslie Jenison have curated for several years. It is a nice book of images of all the quilts and photos of the dinners that have taken place in Houston.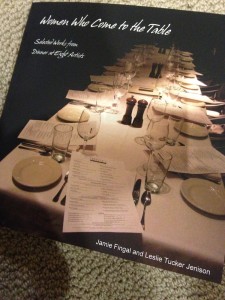 I was honored to have my Hugs and Kisses quilt introduce the section about the An Exquisite Moment exhibit, last year.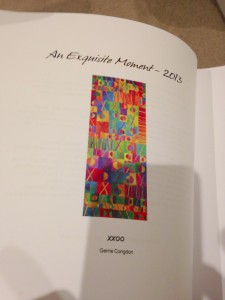 I have been in 3 of the exhibits. I never got anything done for this year since I was busy moving.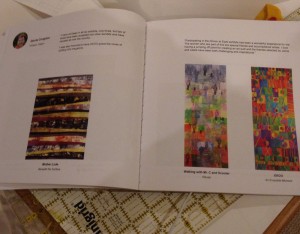 I have been working on printing fabric for this month's theme for The Printed Fabric Bee. The theme is science. Here is a sneak peak: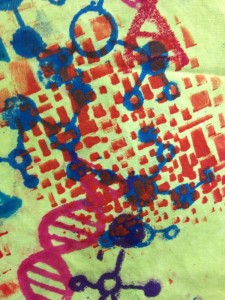 We just got home from a wonderful concert by The Oregon Symphony. Time to call it a day.