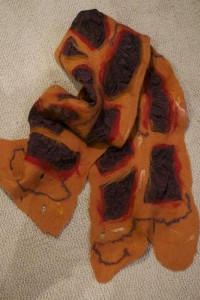 Can't believe that tomorrow is Christmas eve. I am rather organized this year, trying to keep things simple. It is easier here in The Congdo. Not much entertaining going on or decorating. We didn't have room for a Christmas tree so I have divested myself of all the ornaments and tree skirt. Instead, we have this lovely bare limbed tree which is covered with little lights. We also have two smaller ones on the buffet with some of my creches.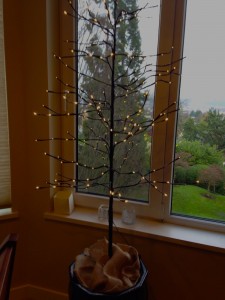 Up at the top is a beautiful felted scarf gifted to me by one of the SDA reps that I work with. Ellen is the rep for Connecticut and is a new Rep. She puts together really newsy e-mails for the CT members which I format in Constant Contact and send out for her. She gave the scarf to me for my help this year. It was not necessary, but I sure do love it. She said when she saw a photo of me with my red hair, she knew that this one had been made for me.
Today, I made peppermint stick ice cream to go with Christmas cookies for Christmas eve. The Portland peeps will come over for supper and gift opening with us. We are going to have Dungeness crab and salad and bread. Very simple. On Christmas morning, Mr C and I are leaving on a jet plane to spend a week in San Francisco with the California contingent of the family. I was excited to see this weather forecast.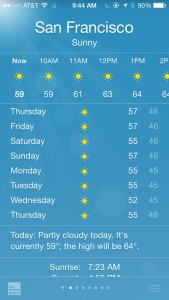 While walking Scooter in the neighborhood yesterday, I found a new store that sells beads and a large variety of wood printing blocks in different sizes. That was exciting.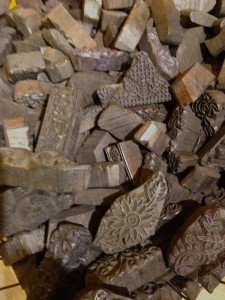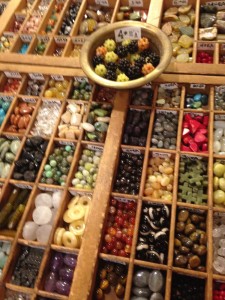 Wishing you all a lovely holiday with your favorite peeps. I will probably check in from San Francisco with some Paige cuteness.