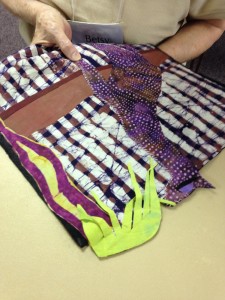 We arrived home on Wednesday, mid-day, just in time to get my self organized to teach another art quilt class at Trinity. I am so proud of my students, who range in age from 8 to 70. Wednesday night, I introduced them to the serenity of slow cloth. We sat and did hand stitching on our little art quilts. Here are some examples of what they are doing. The piece above is done by my oldest student. We had to do some engineering to get the elements off the space to be sturdy.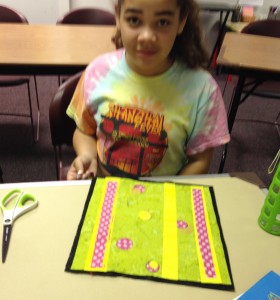 Adea is a budding abstract artist. Love the colors that she is using.
This piece is the four seasons.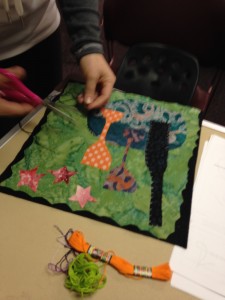 Her Mom is doing a wonderful still life.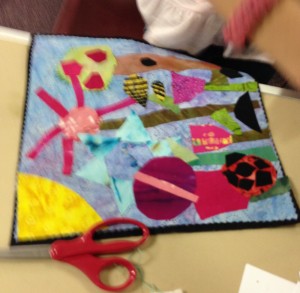 This is my youngest student. She has a lot of stitching to do; I hope she can stick with it and finish.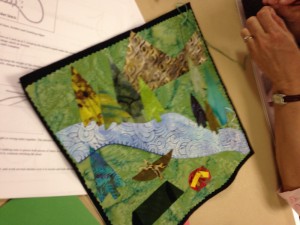 This piece was started by  the Dad of the family and is getting finished by Mom. It is an homage to their camping experiences.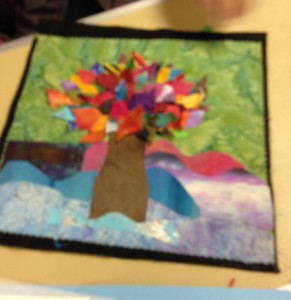 This is a bit blurry, but the daughter in this family is doing a beautiful multi-colored leaf tree.
A fun landscape by her Mom.
Here are some photos from Jayme's graduation. It was a very exciting evening. She graduated with an MD with distinction.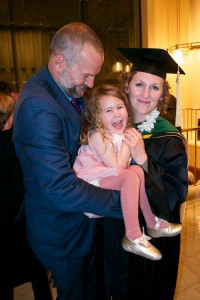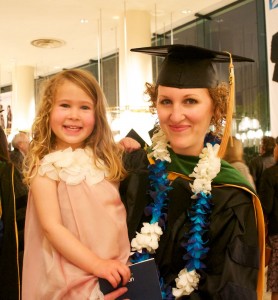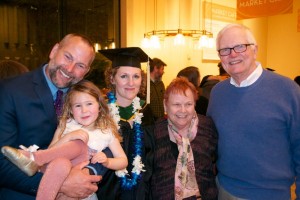 This is a very blurry photo of Mark and Paige hooding Jayme.
It was a great few days in the bay area with Mark, Jayme, Paige and Jayme's family.