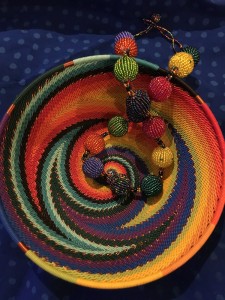 Truth be told, I am having a nice November. My SDA job has taken less time. I no longer have the Printed Fabric Bee to worry about. Portland has been beautiful this fall. Wednesday, Paige and her mom and dad are arriving to spend Thanksgiving with us. I am so happy about that. We will be going to Lisa's for the dinner. She has a big dining room table. I am making the turkey, stuffing and a pumpkin pie. It will be nice having the whole core family here in Portland.
At Trinity, we are having our annual art show and sale for Thembanathi, a nonprofit project that provides early childhood development, education and community building in an area of rural South Africa devastated by HIV and the effects of segregation, poverty and unemployment. The bowl and necklace up there were my purchases. Here are some other examples.
There are also prints and photographs. The work is done by Zulu artisans and is really beautiful. The bowls and little animals are made from colorful covered copper telephone wire and the jewelry is mainly beads.
My art quilting friend, France Alford, turned 70 last month and she requested that all of her friends make and send a 6 inch block that was sandwiched and quilted. This is what I sent her. I finally got it finished this month.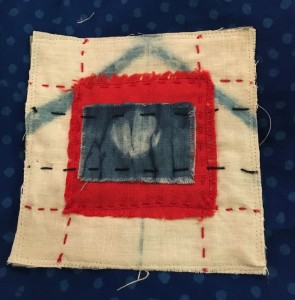 I also finished this sweater and hat for a little girl baby. Her mother is a friend of my daughter Stephanie. Now I am starting another set for my hair stylist's baby boy.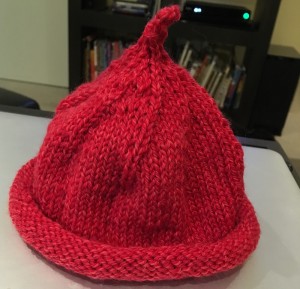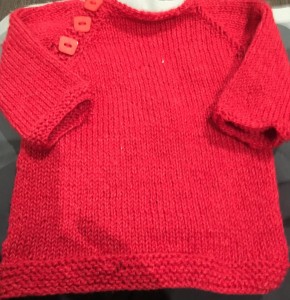 You know I am chilling when I am knitting.
Last week, I got to go back to the Seeing Nature exhibit at the Portland Art Museum for a docent tour with my local SAQA group. It was great to see it again with a docent. There was another interesting exhibit that was not quite installed when I was there last time. It was very intriguing. It is title Paradise.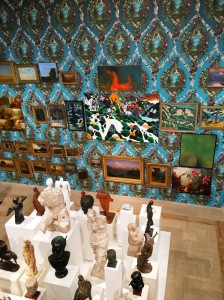 The artist collaborative Fallen Fruit will explore Oregon's paradisiacal backyard through the lens of Portland Art Museum's permanent collection. Based in Los Angeles, artists David Allen Burns and Austin Young create site-specific projects using fruit to examine concepts of place, history, and issues of representation often addressing questions of public space.
I hope I can go back and study this a bit more.
For my master class this month, we were given our choice of 3 photos to simplify and interpret. I chose this one of Christo's gates in Central Park.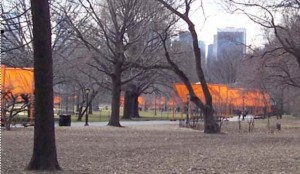 I decided to distill it down to the simple shapes.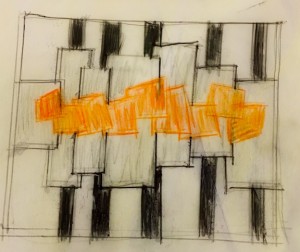 My mock up in fabric was thus:
I did not have satisfactory grays so I am waiting on some to arrive from Etsy and I also need to work on the orange bits. I cropped it so that it looks centered, but it is not.
So, I am not blogging as much, but I hope that I bring you something interesting when I do.