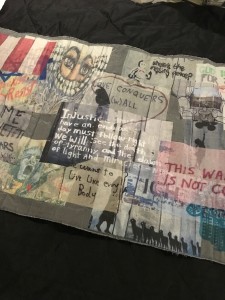 It has been an interesting few days since I last posted. I had all good intentions of celebrating my 11th blogiversary, but life got in the way. On Friday morning, Mr C had a TIA or mini-stroke and I spent a couple of days running back and forth from the ER and the hospital. It was minor and he recovered very quickly, but it was scary for a time.
Up above is a snippet of an old piece that I did for my Israel trip solo show, a few years ago. It is about the graffiti on the Palestinian side of the security wall. I thought it would work well for the SAQA turmoil show, but it was not quite big enough so I am mounting it on black dupioni silk. I quite like it. I think it gives it more presence.
Last night, Mr C and I had the fun experience of attending a chocolate tasting party with our friends who took a chocolate class at the London Cordon Bleu when they were living there. We had six different chocolates, 3 from France and 3 from Portland. They had varying amounts of cacao.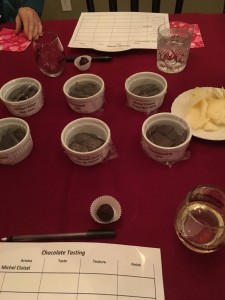 We were given sheets to keep notes on aroma, taste, texture and finish.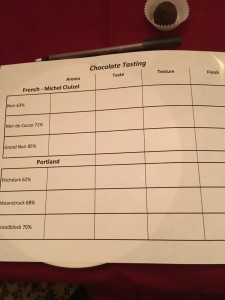 There was only one chocolate from Portland that we liked: Moonstruck. All of the French chocolates were divine.
After the tasting adventure, we got to dip our own truffles in tempered chocolate. Here is the tempering machine with the luscious chocolate.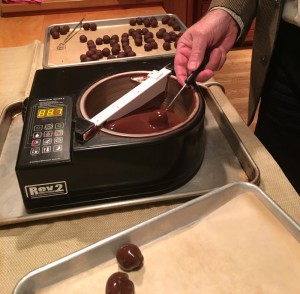 Here are my truffles. I like the little swirls I got on the tops.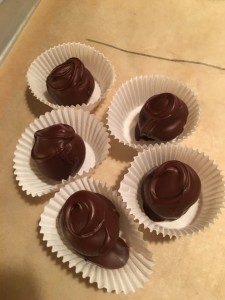 Cheryl packaged them up for us to take home.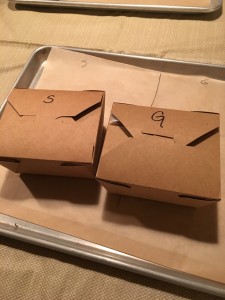 Paige wants a purple sweater with Winnie the Pooh. I found a pattern and picked up the yarn, yesterday.