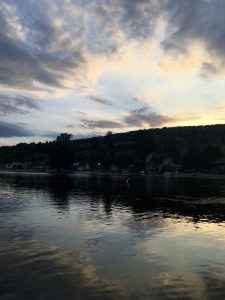 Last week, we flew to Syracuse, NY so that I could attend my 60th high school reunion and touch base with my family. This photo was taken on our first night there. My sister lives on Little York Lake and we took their pontoon boat out for a sunset cruise.
The next day, I met up with 6 of my bff's from high school for a cruise on the mail boat on Skaneatlas Lake. It was a small boat with tables and chairs so that we could have our lunch. It was fun to watch the delivery of mail to cottages along the lake. The girls at this camp come out and do a dance for their mail.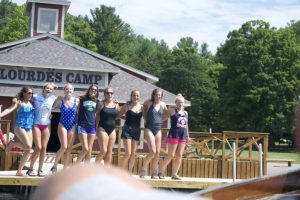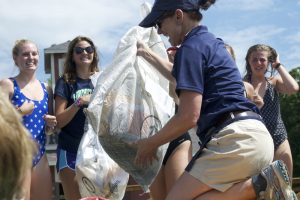 After the boat cruise, my sister and I headed to Auburn so that I could check out the SDA exhibit, Transgressing Traditions, at the Schweinfurth Art Center. I took photos of some of my favorite pieces. The exhibit consisted of very avant garde art pieces. I loved looking at each one and marveling at the creativity that went into the making of them.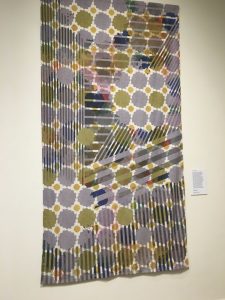 This piece was not so innovative as it was beautiful, layers of printing by Elizabeth Odiorne. Here is a detail: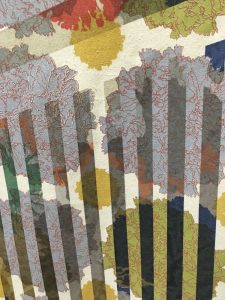 This piece by Diane Siebels was copiously hand stitched. I forgot to write down the title.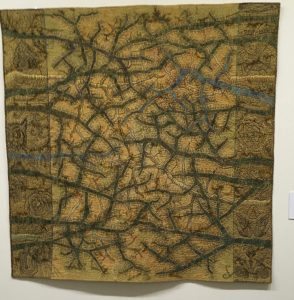 Here is a detail: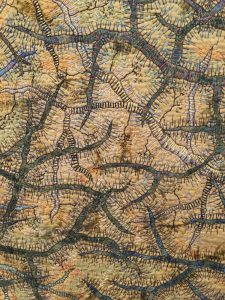 This wonderful piece is by Amy Meisner, called Inheritance. She used abandoned needlepoint, vintage doilies, cotton velvet, silk organza, wool. Click any image to see larger.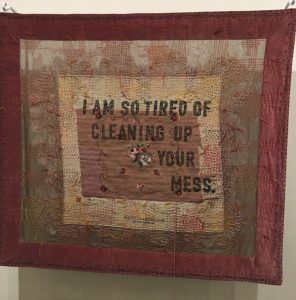 I have no idea who did this whimsical piece with pins, needles and safety pins.
I am a huge fan of Judith Content's shibori kimonos so I had to have my photo taken with it.
This piece by Georgia Roswell is made from strips of discarded textiles. See the detail for a better idea of the construction.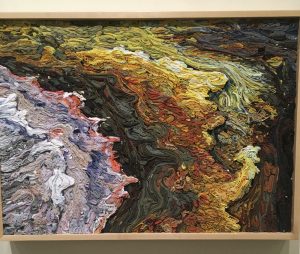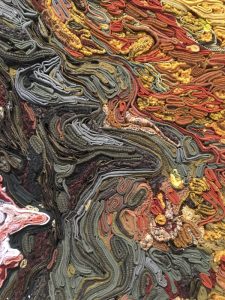 I loved the graphic quality of this piece. It is all computer generated and printed on polyester and quilted!! By Russ Little.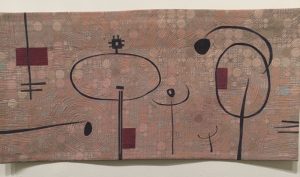 This piece is so lovely and so organic. It is by Andrea Huffman and consists of  variety of textiles and is hand stitched.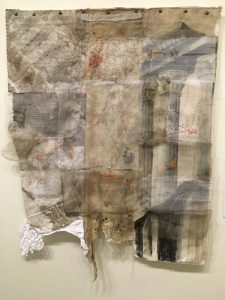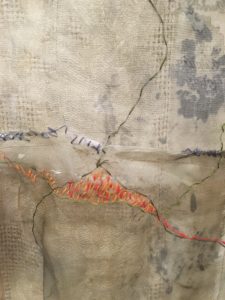 There is so much more to see in this exhibit. Click Here for a link to a video of the show.
Continuing with my trip! On Saturday, my little high school class had a picnic. There were 36 in my class in a very rural town in upstate New York. Here are the 17 of us who attended.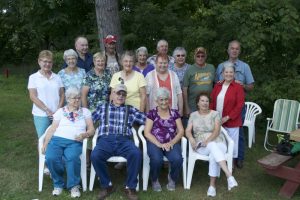 On Sunday, my sister and brother-in-law hosted a family gathering. Jim made us a fantastic feast of clams, lobster tail, shrimp, kielbasa,  potatoes and corn. So delicious.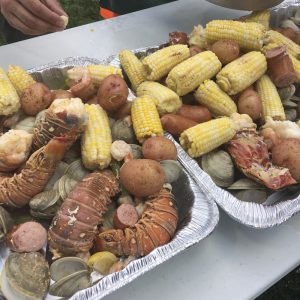 We got home on Monday but I have been busy catching up.