I have had such a hard time getting myself into the studio to work. So many distractions. Today, I had some Surface Design Web work to take care of. Next thing I know it is time to take a walk and then its lunch and then we took off to look at more tile for the floor of the bathroom. We brought some samples home. I think we have found something that we both like — a variegated black porcelain tile in a large rectangular shape.
By the time I got home, it was time to make dinner and then more work on the web site. I was determined to make something before the day is over. I bought some 6 inch square stretched canvases. I thought it would be fun to make some small fiber pieces and mount them. Here is what I did tonight.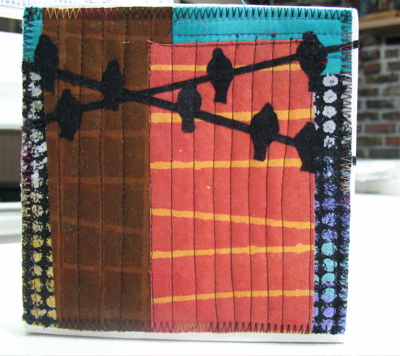 I used some of my discharged hand-dyes for the main buildings. I had cut these birds for the other piece, but they were too small so I saved them.
Here is a side view, I thought it would be "cute" to make the wire extend around the sides.
This is sort of a test piece, but I think I like these – a little bigger than a post card.