JOURNEY PROUD: In a week we leave for two weeks in Israel. I need new clothes. I have to get some quilt show entries done that are due while I am gone. I have lots of nit picky little things to take care of – call the credit card companies to let them know we will be in the middle east, find my passport and make a copy, get all the little things together that I want to take — power cord converter, camera batteries, prescriptions, etc. I plan to do an art journal of my trip and so here are my journal, pens and water colors.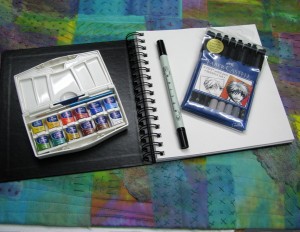 I also bought some fabulous Eileen Fisher separates that I am crazy about – light, lineny fabric.
Weight Watchers: Of course, yesterday was Wednesday. My weight was up. I am going to stop dieting until I get back from my trip. Errr – I think I already stopped!
STUDIO WORK: I got 4 pieces ready to put in the Trinity Art Show next week-end — Artist's Among Us.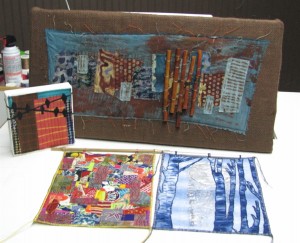 I know it all looks familiar. I added some more silvery moonlight to the aspen piece – I removed some branches that I didn't like. I also restretched the bamboo fence piece and neatened up the back. Look at this — I just have to add screw eyes and wire.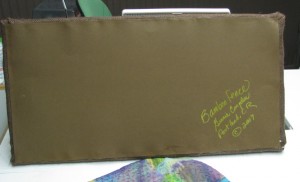 COLLAGE MANIA: Virginia Spiegel's Collage Mania fund raiser begins on Monday. If you have not been to her site to see all of the gorgeous work that is for sale – do it now! On Monday, the collages are $80 and on Tuesday, if there are any left, they will be $40 — what a bargain, either day. My pieces are on page 20. All of the work is mounted on paper and ready for framing. As a breast cancer survivor, this fundraiser is near and dear to my heart, and I am thrilled to have participated since the first year. I am personally hoping to snag a collage by Liz Berg!
THE ORTHOPEDIC CROCS: I have had many requests for the link to these shoes. I really love them. I even took the dog for a walk in them this afternoon. I have to thank one of my blog readers, Linda, for the link. They are called Relief.