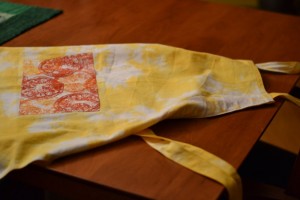 I am spending some time cleaning and reorganizing my studio and office and reflecting on the past year. It was a year when I attempted to experiment with some new work, but also felt blocked from really doing the work I want to do. I am making some plans and setting some goals and just thinking.
That gorgeous and sunny apron up there was a belated birthday gift from my good friend, Judy, in Georgia. The pocket is printed with grapefruits. She made the apron and it is perfectly sewn. You can see some posts about the apron here and here. Judy is one of those fiber artists who does the work. She  spends lots of time in her studio printing and dyeing and doing beautiful work.
Lisa arrived on Monday, with her dog, Wilfredo, who ran to greet me at the airport. I think she could leave him here with me, and he would never miss her!! He does find Scooter a bit daunting.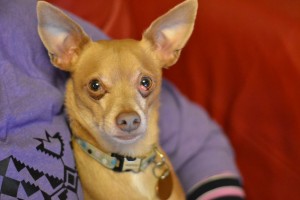 Clay, Lisa's partner, arrived yesterday and we have been running around, shopping, eating out and baking.
Our neighborhood really goes all out with the holiday yard decor. I took these photos of a couple of trees.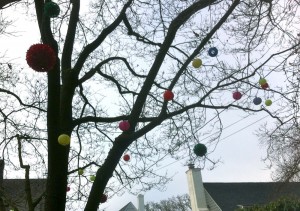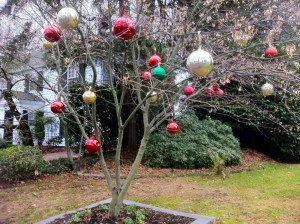 I haven't tried to photograph the lights at night, but there are some very  exciting displays.
Lisa and Clay are vegan which means they do not consume any dairy or eggs. I found a vegan gingerbread recipe which has a really nice spicy flavor. I have so many cookie cutters, but stars are my favorite.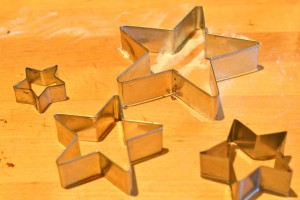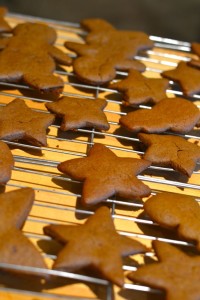 I will make the frosting using margarine and soy milk.
Last night when we were out for dinner with the whole family, Mia asked me what Christmas cookies I was making this year. I asked her which ones she most wanted me to make. She said, "All of them!" So, I mixed up a batch of peppermint brownies which will get frosting and crushed peppermint. I also will make some pressed sugar cookies.
I have finished my gift shopping, but I still have to wrap things — something I do not really enjoy doing. I am a fan of gift bags!!
I hope you are enjoying a lovely holiday season. Happy Solstice!!