After a lull in the work on our bathroom renovation, there is finally some action and some visual progress. Most of the tile is up. The shampoo caddy needs some final touches and the shower floor needs some work. Here are some photos of the tile, sans grout and with little pieces of tape which must mean something to Vladamir, the tile man.
Thia is the end of the shower where the shower head will be. The little alcove is for shampoo.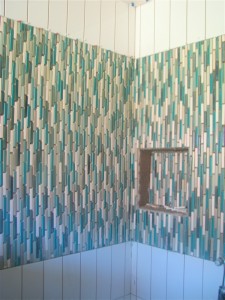 This is the other end of the shower where there is a half wall. The Toto toilet is on the other side of the half wall. I think the paint color we selected is perfect.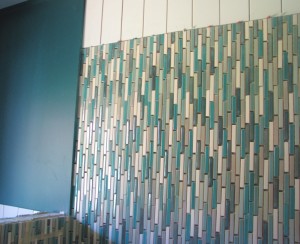 Look at this little hole in the floor of the entry into the bathroom/closet area. It was where the old closet door was removed. The photo is dark because there is not light there right now.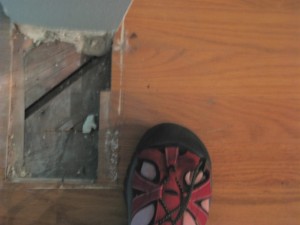 The original plan was to use some of the flooring from the old closet and weave it in with a new threshold across the entry from the bedroom to mitigate the work that would be done. But, the floor guy is a fanatic. He wants it to look seamless with the bedroom. So, we have to move all the furniture out and after the repair is made, all of the floor will be sanded down to the wood and refinished. Happily, this will happen next week when I am gone.
Where am I going, you wonder? I am going to the Coupeville Arts Center on Whidby Island to take a workshop: Beyond Kimonos-Color Rice Paste Resist on Silk with Akemi Cohn. The best part is that I am taking the class with Judy of Judy in the Dyes from Georgia. I will drive to the Seattle airport and pick her up on Sunday and then off to Whidby Island for a week of creative fun.
After a 3 week absence, I checked back into WW's today. I am so on a plateau, but at least I have not gained. I have not been able to do much walking with the leg problem and the workshops, but, I am sure that Judy will keep me on the straight and narrow next week. Right, Judy?