Sometimes, I get to the end of a day, and I think I have not accomplished much of anything. I try to think back over the day — what did I do? Today, was one of those days. After breakfast, coffee, the newspaper and some blog reading, I prepared Indigo Construction for the trip to the APNQ show. I had a sleeve, but not the legal type of label. Once the label was done, I had to cover it with muslin for the judging – ugh – I don't like to have my work picked apart by judges. I then prepared it for the FedEx shipping tube, printed out the shipping label and Mr C took it off to the shipping store.
I also washed all my silk fabric and hung it to air dry. This is all going to Coupeville with me. There is organza, habotai, charmeuse, peau de soie and noil. I also have some charmeuse and chiffon scarves.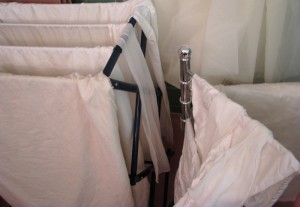 After a nice walk with Maggie and lunch, I worked a bit on my Illumination challenge for the 12 X 12 group. Here is a sneak peak.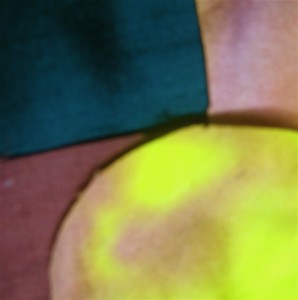 Then it was off to do some shopping for supplies for the trip and some bread and peaches for family dinner tonight. M & M were at day camp this week and I missed my day with them. They had a wonderful time in the great out-of -doors. They didn't want it to end. He had wild berry juice on his cheeks. I wanted to photograph him. This is what I got: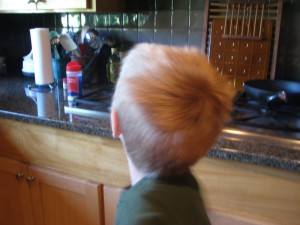 We had a nice dinner of grilled chicken (marinated in zin, olive oil, dijon mustard, garlic and thyme), roasted new potatoes, grilled zucchini, caprese salad with heirlooms tomatoes, bread and ice cream with peaches and balsamic syrup. There was a nice bottle of Alderbrook zin as an accompaniment.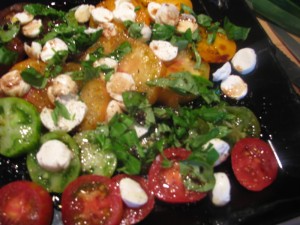 Now, we are watching Sweeney Todd — a bloody good movie! I love the music, anyway. I can watch Johnny Depp do just about anything. Speaking of movies, we saw Wall-E the other night and loved it.
So, I guess that I did accomplish some things today. I leave you with the lovely table of Mediterranean barley salad that Terry served us yesterday at the STASH meeting. Delicious.