Yes, I made a list on paper. The list in the head was not working. I checked off quite a few things — photography for the Line Dancing quilts which I sent to Terry for the CD. I wrote my artist statements for the 2 pieces and sent them to Georgia who is making the labels. I selected two pieces for possible inclusion in the Columbia Fiberarts Guild show at the Contemporary Craft Museum and did the paper work. I also worked on SDA conference registration, of course!!
I am happy to say that Noshi Ribbons was purchased at the last minute today and is going to a new home in Santa Cruz, California. The new owner wants a bamboo rod so I tinted a piece of bamboo with turquoise paint. Fiberart for a Cause has now raised over 17o, 000 for the American Cancer Society. I will alert you when the Collage Mania sale starts.
I did it. Got my hair cut and didn't get the color. Here I am. Can you see the gray?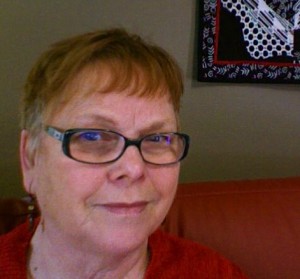 I am enjoying the short cut. Makes me feel like spring is here and I can shed the weight of winter.  Next month, I am getting new glasses. Now, if I could just lose the 20 pounds that is plaguing me, life would be great. My headache was not gone, but was much better today.