The day went by so fast. Reva, my GPS, got us to the Eugene Textile Center, with nary a problem. Getting to Karen's house tonight was a whole other thing — good thing she wrote down directions for me. Reva wanted me to turn the wrong way on a one way street. Tsk!
I was so busy that I didn't have time or didn't remember to take a lot of pictures. Here is Jan Meyers Newberry who is a really organized yet forgiving teacher. You know, she makes suggestions of how to do things, but doesn't get hung up if you do it another way!!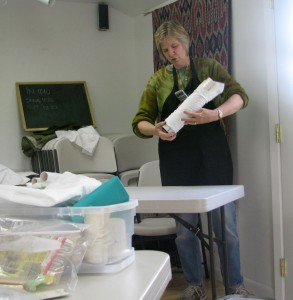 Here she is demonstrating pole wrapping without string – yeah! And how to get those awesome diagonal stripes.
The first thing we did today was to do some folding and clamp resists. For one of them we had to do identical folds and clamp resists except one was with wet fabric and the other was dry so that we can see the difference in how the dye behaves. Here are mine. I used the accordion fold with chopsticks as a resist.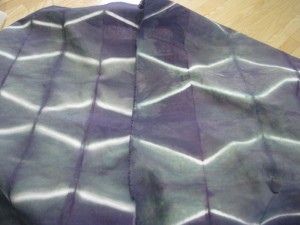 Mine was not a good example of the difference, as you can see. The one on the left was folded dry. (I think) For my other piece I did the triangle fold with clamped washers as a resist.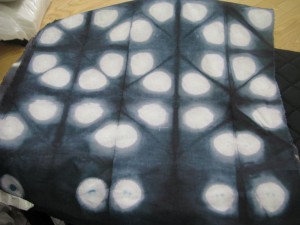 I am going to pole wrap this tomorrow or do another clamp resist.Our next project was doing two different pole wrap techniques. No photos beause they had just come out of the washer when we left. Here is Karen concentrating on wrapping hers.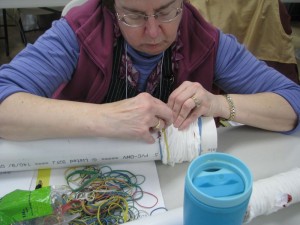 I went crazy with some stitching tonight which will go in the dye tomorrow. I started with one circle and then added a curved line and 3 small circles.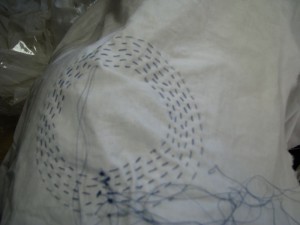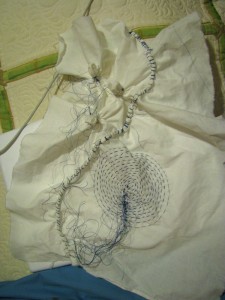 I still have to pull up the stitches on the larger circle, but I need to dampen it first.
Karen fixed a comfy meal of meatloaf, baked potatoes and sauted veggies and a salad. It was delicious and appreciated.I got the tour of Karen's studio in the basement. Wow, she has so much going on down there. And loads of gorgeous fabric waiting for her magic.
I am ready for a good night sleep and looking forward to another creative day. Did I mention that there are 16 people in the class. We have to be VERY organized and well-behaved to give everyone a chance at the dye pots.
I leave you with this gorgeous orchid in Karen's bathroom.