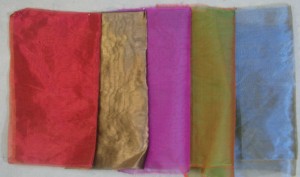 I am feeling so good today. I think the combination of a day and a half of clear liquids and  breathing pure oxygen yesterday has been very therapeutic. Lisa and I went to Fabric Depot to look for linen for a curtain for her bathroom. She did not find what she wanted, but I found this luscious metallic silk organza on sale. I love this stuff and haven't worked with it in a while. Here is one way that  I use it which I learned in a workshop with Charlotte Yde.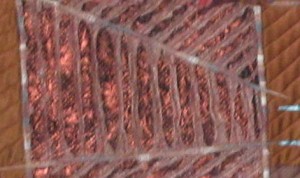 This is a close up from one of my art quilts. You can only use metallic silk organza for this kind of cut-work.
This morning I worked in the garden, pulling out the lettuce that has gone to seed and picked quite a crop of tomatoes.
For dinner, we had fresh tomato sauce and whole wheat penne, sauteed Japanese eggplant and Walla Walla onions on arugula with Gorgonzola cheese. Yum!!
I set up a table for Lisa to work in my studio.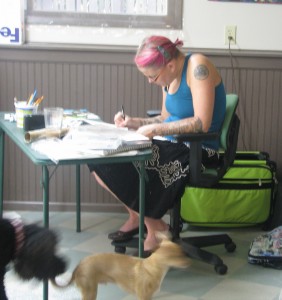 The blur is Scooter chasing Wilfredo. He is obsessed with him. Poor Wilfredo is not very happy with all the attention.
Tonight, we are having a lovely, gentle and warm summer rain. I think the garden will be very happy. I know that I am!!