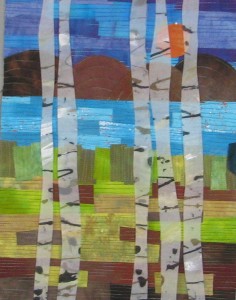 Woo hoo! I thought I wasn't going to be able to post tonight, but my site is back on line so here we go with blog post 1000. There will be prizes!!
I thought it would be fun to go back and look at my first post. Here is what it said:
This is my first blog so please be kind. I enjoy reading the blogs of family, friends and perfect strangers so I thought I would jump into the fray. As my Blog title says, I am crazy for fiber. I make fiber art and I've been knitting forever. I hope to share my works in progress – both blunders and successes. Once I figure this out, I'll add some photos. I like blogs with photos and few words.
I received 3 comments; one from my daughter, Lisa, telling me she would teach me to post photos; one from  my good friend, Diane, who welcomed me to the neighborhood. But this was the funniest. It was from Mr Tasty Cake and said:
Crazy For Fiber-I must admit I was a little disappointed; I was hoping this would be a blog about shredded mini wheat addiction, nevertheless it was a joy to visit. Cheers and nice fiber!
So here is the deal, I have the older Spooner Lake Aspens which I showed a few blogs ago.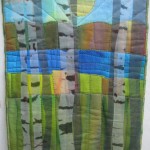 I am now constructing two new Aspen pieces. One is going to the Art for Autism auction. The other plus the older one will be give aways to two people who comment on my blog.  I will do a random drawing on Friday.
Up at the top, you see the new trees that I made. I fused some of the new painted organza (silk for the person who asked – I never use synthetic) to plain organza and some to more of the painted fabric. This gives a more opaque tree with more dimension. I like it on that landscape, better than the other trees from the dye painted organza.
Many of you commented on the color of the sky in the new landscape I created.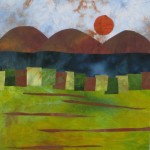 So I got out my trusty Sherrill Kahn travel paint studio which is cute little bottles of Jacquard Dynaflow paints.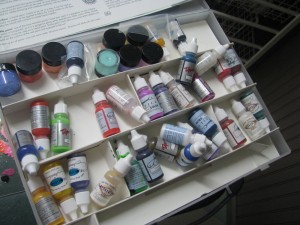 I used a couple of blues and painted the sky darker.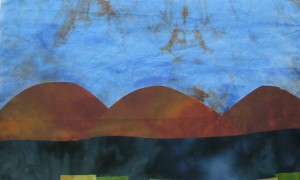 I like the original trees with this landscape which I have not quilted as yet.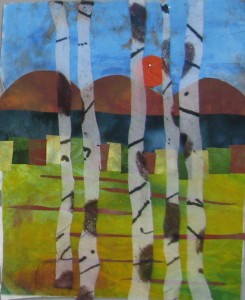 Thank you all so much for helping with my design dilemma. It was fun to hear from so many of you. Tomorrow, I have to get back to stitching.
Don't forget to leave a comment to win some Gericon art.