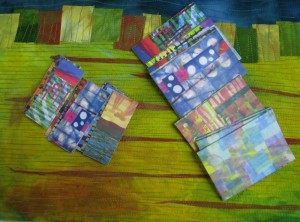 Wow!! Thank you every one for stopping by to comment on my 1000th post. If you haven't checked in, you still have tomorrow I probably won't get around to do a drawing until late in the day.
Looky! My Moo mini cards and business cards arrived. They are so cool. I don't know what I will do with them, but at least I hope I will not be caught without a card when needed. In the background is the second Spooner Lake Aspen background, all quilted. I thought I would get to the trees today, but M & M have been here. I also had to do some mundane things like laundry and neatening up the house.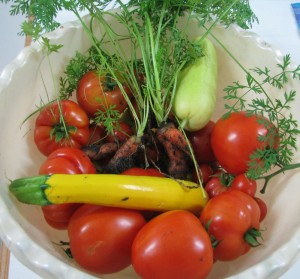 Here is my bounty from the garden today. Beautiful colors, don't you think? Tastes pretty good, too.
That is all for today. I am a tired Grandma.