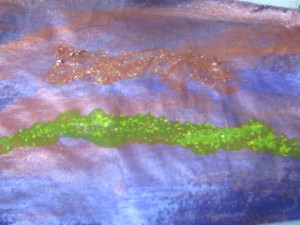 Just a quick check in. I think the activities of the past two weeks have caught up with me. I hope I do not have the flu because Mr C has surgery on Thursday and he needs me. So, I am off to bed soon.
The photo above is my experiment with tinting mica chips for the green flash piece. The photo is not that great because every thing is reflective, but you get the idea.
Today, I had fun helping one of Jane Dunnewold's Mastery students make thermofax screens for her next project. Barbara recently moved back  here to Portland. She used to have her own clothing design business, but now designs fabric for other designers. The Mastery program is a 3 year program with twice a year week long classes in San Antonio with Jane.
On Sunday night, Mr C and I took Scooter to his first puppy training class. He is doing so well. We have homework every day, and he is a very smart boy. He can come, stay, sit and go down on command. (As long as a treat is involved!!) Here he is n class, touching Mr C's hand to get a treat.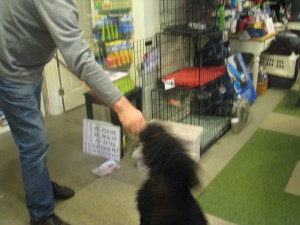 I am done for the night. Ta!!