Here is another idea that I have for the Bird's Eye View show.  A few years ago, Mr C and I went to the Grand Canyon and I took lots of photos, looking down into the canyon. I have always wanted to abstract one of these photos and create the canyon in fabric in some cool colors.
I used the Photoshop photocopy filter on the above photo with this result: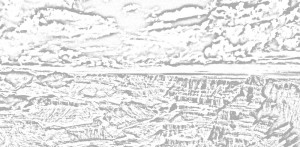 I have printed this on 11 X 14 paper and will put tracing paper over it and redraw with simple graphic lines and shapes.
So there is my art for the day. I had to spend most of the day doing tasks for the Columbia Fiberarts Guild and SDA. It involved thinking and writing. Tonight, I had Arts Commission meeting at the cathedral. They asked me to be the featured artist for Artists Among Us in May. My work will be featured on all the promotional postcards and posters and I will have a lovely spot, front and center to display my work. I am very honored and excited.
I have a silk scarf in an auction to help a young woman with breast cancer. She is a friend of my daughter's partner, Clay. There are several nice items in the auction. Take a look and think about bidding on something. Here is the link: Art Sustains Us