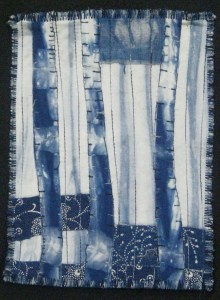 I was going to do one of those wrapping up the old year blogs with photos of all my work, but you know where to go if you want to see my work. Instead, I had a frenzied cleaning up session down in my studio. I want to hit the ground running tomorrow. I have so many deadlines looming and a big trip at the end of January which will allow hand work, only.
I walked into my studio this afternoon and wondered where I was!! It looks great. I just had to get out some indigo and make a Once in a Blue Moon piece. It was a quicky – took about half and hour.
Laura Wasilowsky was offering a pair of hand-dyed socks with an order from her website. My order came today and I was struck at how the colors are the same as the new Kleenex packets that I bought yesterday.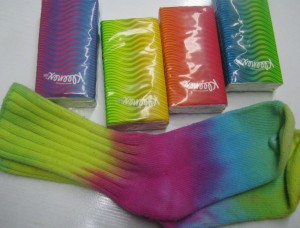 I am feeling so happy about my energy level and state of mind and really looking forward to the new year and the new decade. I cannot say that the past year was bad. It was a great year in so many ways.
In January, I had my first solo show and sold 5 pieces right at the get go. In March, I took a shibori class from Jan Newberry Meyers. April was the opening of the High Fiber Diet Line Dancing Show in Roseburg, OR. In May, I went to Kansas City for the SDA conference and got to hang out with my good friend Judy C and Scooter joined our family. June was rather low key – not much going on.
I finally got back to work in the studio after a drought and made Illuminated Aspens for Kristen. In August, I had my 1000th blog post. September was jam packed with activity. Laura Cater-Woods was in town. We had 3 days of family celebration for Mark and Jayme. And of course, we lost our beloved Maggie. In November, I did Art Every Day for a Month and had a ball. I started the Drawing with Expression book and plan to pick that up again. In December, I was honored to have my work reviewed on The Textile Blog and John Hopper helped me understand my work in a new way.
I managed to get into a couple of shows this year, but it was not a great year. I hope to change that this year, but I make work that I love. I do not make work for shows. I enter what I have done and sometimes it works and sometimes it doesn't.
OK, I didn't intend to go on and on about 2009. I just want to thank all my readers for stopping by and to wish you a Happy New Year and a Happy New Decade.