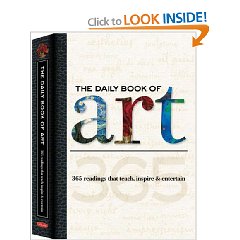 This arrived from Amazon today.I saw it on another blog a couple of days ago and ordered it immediately. The book has 10 different topics that rotate through the book — from color psychology and aesthetic philosophy to the proverbial argument over whether cats and elephants really can paint. I did some marathon reading tonight to get caught up to day 6. They are really just short thoughtful readings with occasional step by step directions for an art exercise.
Interesting fact from the book: did you know that da Vinci was a vegetarian and bought caged birds so that he could set them free?
I accomplished quite a bit of editing and fluffing of my chapter for the Twelve x Twelve book. I am about ready to send it to the group for their critique.
I also made a lot of progress on green flash and hope to finish it tomorrow. I had hoped to finish it today, but spent more time writing than I expected. I am contemplating an additional design element, but am fearful of  over-embellishment taking over again.
I really need to finish it because I have another piece I am yearning to do plus I have the blue, white and a touch of black to do for the next Twelve challenge.
Life is full of possibilities.