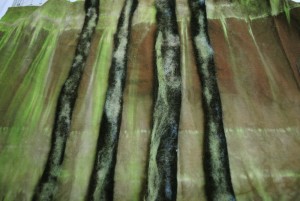 These are a work in progress — the felted tree trunks. I am having lots of fun. I went to the sewing machine shop this morning to look at embellishing machines or to buy needles. After talking to the guy, I decided that if I get one, I want the 7 needle Babylock embellisher so I think I will try to fin one that is used. I bought a ten pack of needles — $30!! I broke two this morning. Argh! I hope that as I get more proficient, I will not be breaking as many.
I was given a bag of natural fleece by one of the guild members.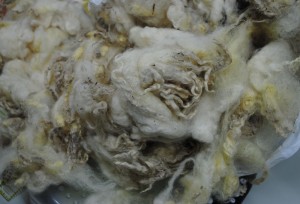 I have used some of this for shading on the trunks.
Mr C has been painting my studio while I have been needle felting while Scooter keeps an eye on things. The good news is that the painting is almost finished. The bad news is that my studio looks like this.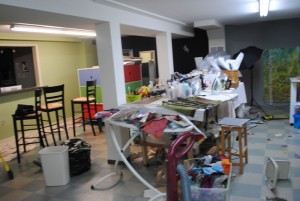 The center posts still need to be painted. We are not sure if they should be green or the color of the woodwork, which is an off white. I am thrilled with how the studio looks. Way back there on my design wall, you can see that I am starting another aspen piece.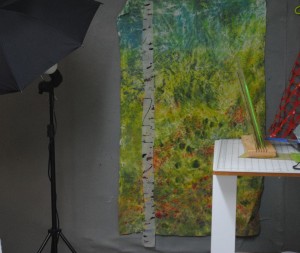 I think I need to do some touch up on the background.
I am happy that I stayed home with Mr C. I have accomplished quite a bit and even got a hair cut this afternoon. Now, we are going out to dinner. Life is good.