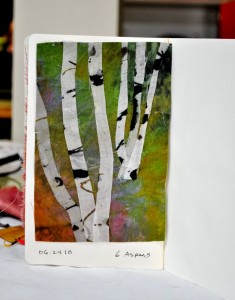 This is a short and sweet post tonight. I am planning on doing another aspen piece. I still have lots painted bark fabric and the painted silk background that was done with the other background. I am thinking about how I can push myself with the tree composition. So, today;s sketch is a possibility, I think.
Today, I went to the salon to get my hair cut and colored. I wanted to go lighter so Kevin said he would have to remove the old color. He used something that was not bleach or peroxide and was non-toxic. It smelled rather vile, but it did the job. I thought, why can't they come up with something like this for discharging fabric. Maybe I should go  back and buy some from him and try it on fabric.
It was another perfect day. I took an hour walk with Scooter this morning. It feels so good to be out and about in the sun.
Here is Scooter looking for the squirrel that lives in out yard and taunts him.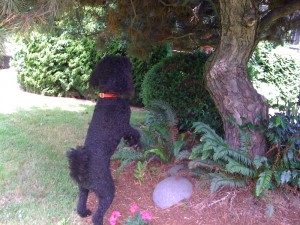 Tomorrow, M & M are coming to spend the day and night with us. I think we might go to see Toy Story 3,