I am back in Portland and I brought some spectacular California weather with me. At least that is my story!
I was without convenient Internet access since Tuesday and my friend, Janet, kept me so busy, I didn't have time, anyway! My friend, Judy, who gave me the ride to Santa Rosa, told me that her group, The Gilded Lilies, was having an art quilt show at the Rochioli Vineyard and the Pointless Sister's had a show at the Rincon Library, so we headed out on Wednesday morning, to see both of the shows.
I was so thrilled to see this piece hanging in the library. It was the first project for the Pointless Sisters. I took a photo of a water lily and cut it into sections and each of the members created a section in fabric.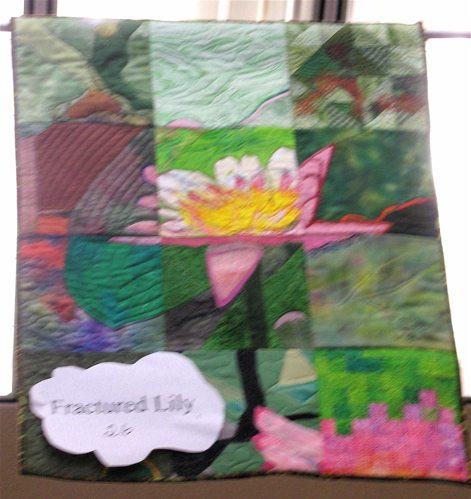 I didn't get any photos at the winery, but we did taste some good wine and I bought a bottle of pinot noir for Judy and her husband as a thank you for the ride.
Next, we met Diane Hock in Healdsburg for lunch at Zin. A highlight were the tempura green beans with mango dipping sauce.
Then, Janet and I stopped by my friend Pat's house so that I could see her latest work. Pat has an incredible color and design sensibility. I always love seeing her work, of course, I did not take photos.
We barely had time to run home and have a bite to eat before going to the Moonlight Quilter's meeting to here Tracy Brookshier talk about Japanese quilts. She was in Tokyo in January for their big show and had a wonderful slide show.
On Thursday, we went to the Santa Rosa Quilt Guild meeting — my old guild. One of the mini groups did a presentation of their first and current quilts. They are traditional quilters who do wonderful work and they have a great sense of humor. Then they had the drawings for the two opportunity quilts. One of the guild members won the traditional quilt. I pulled the ticket for the art quilt. It was won by a lovely lady from Healdsburg. So after lunch, Janet and Pam, president of the guild, and I drove to Healdsburg to present her with the quilt. Here are Pam, Janet and the winner with the quilt.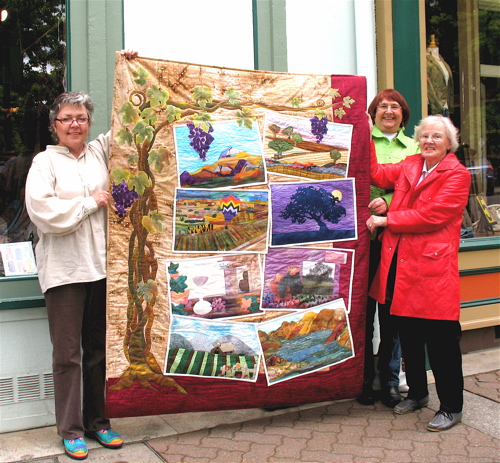 Then it was off to drop in on Diane Hock, again. I got to see some of her latest work hanging in her house — the topography piece and the Eucalyptus leaves that started as piece of plain muslin. I was going to link to them on her blog, but I don't have time to find them. She also has the new art quilt opportunity quilt at her house as she is doing the binding. This year, the Pointless Sisters did a whole cloth painting of a farmer's market and it is spectacular.
This morning I had to get up early to take a bus to the Oakland airport for my flight home. My flight was not until 12:20, but I had to take the 7:15 bus which got me in at 9:30. So I had a nice long wait in the terminal.
Here are some photos of the farmland that I took as we neared Portland.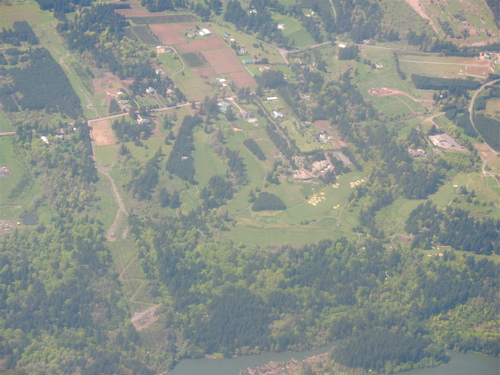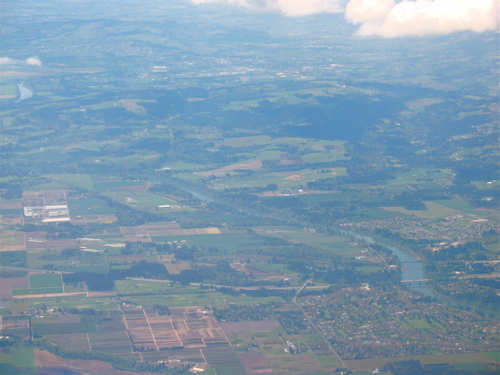 Look at what I found in my kitchen! Mr C ordered this for me. We have been talking for a year about getting this and now it is here and so functional. Mr C said he loved seeing it with food on it tonight! He missed me! (Or my cooking.)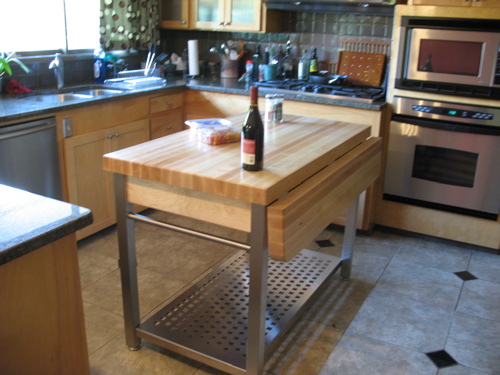 Look at who else missed me. She is attached to my hip.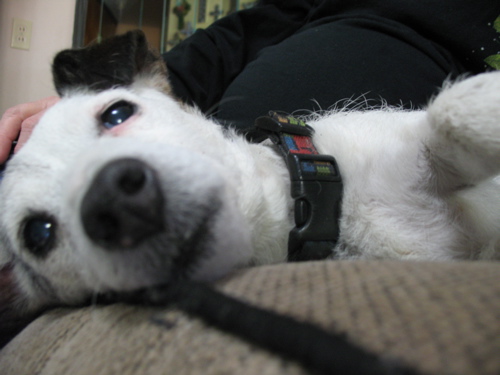 I had such a good time on my trip — meeting Rayna, taking her class, connecting with old friends, but it is good to be home again.