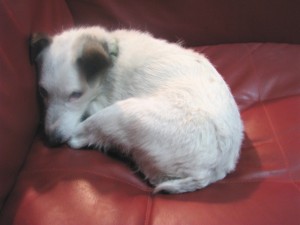 I took this photo of Maggie just before we drove her to the vet's office. They were so kind and ushered us into a room and took care of all the details so that we could leave without a to do when it was over. I awoke at 5 this morning and knew that I had to be there when she went to sleep. If I could make this decision, then I needed to be there. Mr C and I held her as she went limp in our hands. I felt such a sense of relief as Maggie's spirit was liberated from  her deteriorating body.
It has been a quiet and solemn day. Even Scooter is subdued today. At the end, Maggie had developed strange behaviors like constant pacing, licking the floor and licking her body. I didn't realize how quiet and calm it would be when I didn't have the constant worry about her. It was a good thing that we did today.
On a  happier note, I picked up Laura Cater-Woods yesterday and we had a wonderful evening with her. I made this tomato tart with tomatoes and basil from my garden. We ate every last crumb. It was so good. She was off teaching the first set of workshops today.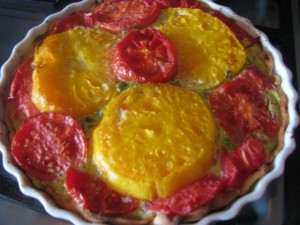 Today, I have done a little more work on the green flash piece. Here is a sneak peek. I am liking the way these fabrics are working together.