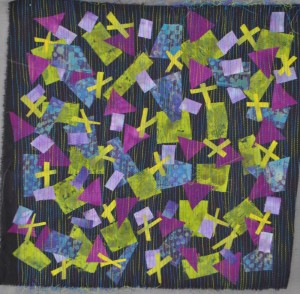 Sometimes, I wonder where my day goes. I didn't get to work in the studio until this afternoon. What did I do this morning besides walk the dog? Then, I remember that I entered 3 quilts using an online entry form which required artist statements for each in 25 words or less. I worked out all the wording ahead of time. spent an hour getting images just right. So, there went my morning, but important artist work.
So this is my latest coaster work. I used some of my left over scraps of printed fabric. I had so much fun pulling off this combination of colors and prints. You can click to see a close up. I had a nice heavy quilting thread with those colors. I ran out of old denim pieces so I used black canvas for this.
Here are the resulting coasters. I think I need to get purple or magenta felt for these.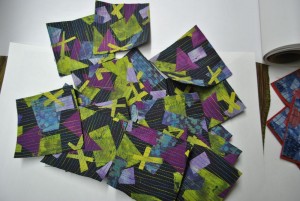 Tomorrow is a busy and exciting day. I have guild meeting in the morning, followed by a local SAQA meeting. Tomorrow night, we have tickets to see Leonard Cohen in concert. Thursday is STASH holiday party day. We are meeting for lunch at the top of Big Pink, which you might remember from my first color play Twelve X Twelve quilt.
So, I may not be back for a couple of days!