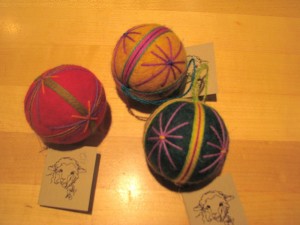 But, here I am. These are beautiful felted ornaments that I won in the guild silent auction, yesterday. I think they will go to M & M for their tree. Yesterday was a whirlwind with two meetings during the day -Columbia Fiberarts Guild and Oregon SAQA. We had a very productive SAQA meeting, talking about how we can keep our momentum going. We have grown from 60 members to over 100 – almost double – in the past year.
Last night, the Leonard Cohen concert was like a spiritual and religious experience for me. I love the man. What can I say. All of his musicians are incredible. His lyrics are poetry to me. The man gave me so much energy and desire to be all that I can be. This 76 year old man skipped, every time he went on or off the stage. It was magical.
Today, I awoke to a very sad posting on Facebook by my sister. She said: "God give me strength to get through this." My brother-in-law is slipping away, and we continue to sit on the edge of our seats wondering when he will leave us.
I almost stayed home, but did join my STASH friends for lunch. They really cheered me up – such a wonderful group of friends.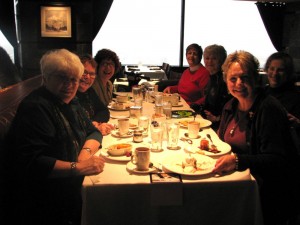 From left, going around the table: Terry, me, Suzy, Gale, Reva, Linda (who used to be in the group) and Beth, who also had a birthday today.
I got some photos of some of the scrumptious desserts.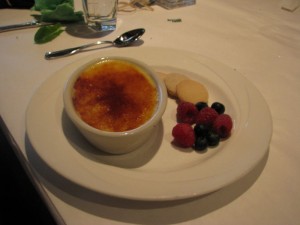 Creme Brulee.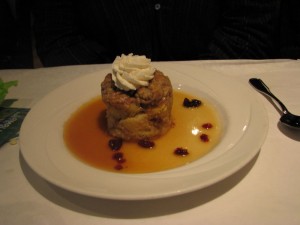 Pear bread pudding. (so delish)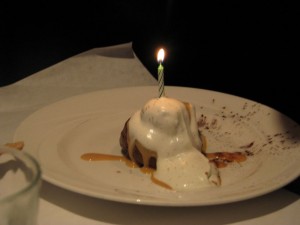 The bonus dessert was for Beth's birthday – a Chocolate cream puff filled with chocolate goodness on a plate of caramel and whipped cream. We also had a peanut butter/chocolate concoction and something called Sin which had multi-layers of chocolate stuff.
I came home and crashed. Need a good night's sleep. It is dark and gloomy with monsoon rains. We found a leak in the roof in the laundry room lavatory.  It looks like it is going to rain for a week. Ack! Calgon.take me away.