I am really trying to pull myself together and get with the holiday spirit, but truth be told, I am not feeling very festive. Mia got sick at school today and Steph and Jack were having a nice lunch together and had their cell phones off so I went and picked her up. When Steph came to collect her, I shared that I was feeling a bit depressed and didn't care whether I decorate my tree or not. I am so concerned about my sister and her immediate family as they care for my BIL. I worry that the weather will be lousy if we need to fly to NY. I worry that the plane tickets will be out of sight. Etc.
She gave me some good advice. There are some things that are out of your control. You cannot change what will happen or how. There are also things that you can do and you need to concentrate on those things. I raised some very wise and intelligent kids.
So this afternoon, I got out of the house and went to the closest fabric store which always makes me happy. I found the perfect purple felt for the coasters that I made a couple of days ago. Love it! They have a lovely supply of  silk organza. I have been thinking that I want to use organza for the next Twelve X Twelve   colorplay theme quilt. The colors are eggplant, wine and emerald green. Look what I found. I love the women who work in the fashion fabric department and they are very curious about what I am doing with this. This is a store where the last 3 Project Runway winners shop.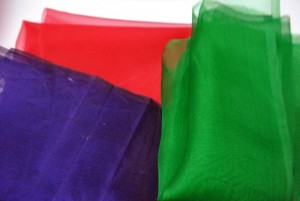 I forgot to share the fabric that I purchased at the Guild meeting on Wednesday. Bonnie, of Handwerks fabric, had this grouping, titled Petroglyph. Aren't they gorgeous?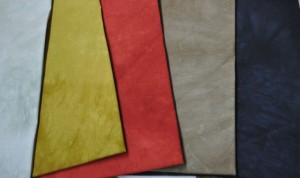 This morning, I managed to fuse some more fabrics for another batch of coasters. This time, I used already fused vintage Japanese kimono fabrics. It is ready to quilt tomorrow when we are due for another monsoon day.
Mr C put the tree up this morning and added the lights this afternoon. The tree is smaller than we usually have, but I love its graceful shape. Mia and I were going to decorate it tomorrow, but that is on hold since she is running a fever with a sore throat and headache.
And here is my lovable Scooter who enjoys giving and getting hugs sooo much. We just took a nice walk in the waning light of the day, and he thinks he should have a cookie.