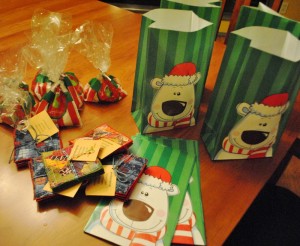 I made some peppermint bard and put it in pretty holiday cellophane bags. I also wrapped bundles of Upcycled Coasters with tags I printed. I have some goofy bags to hold the two items. Some will go to NY with me, others will get shipped by priority mail tomorrow. It will be good to have this all done so then when I get home next week, I can spend some time with M & M and finally get the tree decorated.
Today, I was eating lunch in the kitchen and I heard Scooter barking which means that someone has approached the house. Mr C was in the living room reading and so I didn't pay much attention. Soon after, he brought me a lovely holiday wrapped package. It was from my friend Reva and the note said she thought the hat inside had my name on it and I might need it for my travels to the cold northeast. Here I am wearing the hat, what do you think? I took the photo in the bathroom mirror. I love it – so comfy. She got it from neighbors who import the hats from Nepal. Their website is: yakfoot.com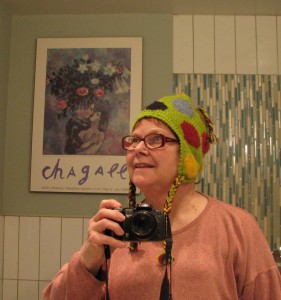 I have lots to do tomorrow so that we can leave the house at 4 am on Thursday. I will try to check in with some snow photos from upstate NY.