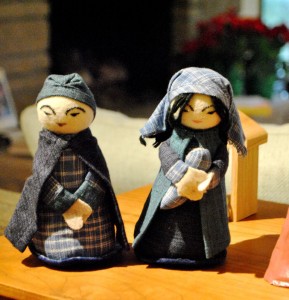 We have had a scaled down celebration this year. Steph, Jack and Mia are still recovering from the crappy virus. They came last night for a couple of hours. I made a delicious cabbage, leek and chicken sausage soup which we ate with mini sandwiches followed by some Christmas goodies. We opened Christmas gifts to each other, and they had left for home to go back to bed by 7 pm.
Mr C and I went to midnight mass at Trinity and got there early enough to sit in the front row which was very pleasant especially during the pre-service music program. I actually wore a dress, something I have not done for a long time. It is an Eileen Fisher wool knit which I wore with tights.  Here is the dress – a bit longer on me. It may sound silly, but it made me happy to find a dress that I could wear with my weird body.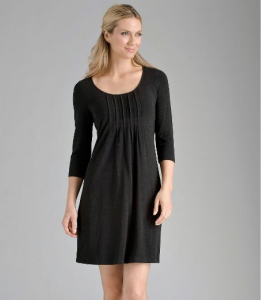 Today the family came over for a short time for lasagna, salad and pumpkin cheesecake. I could tell that Steph felt a lot better because she had seconds of the lasagna. They only stayed a short time. Both Miles and Mia were engrossed in their personal obsessions.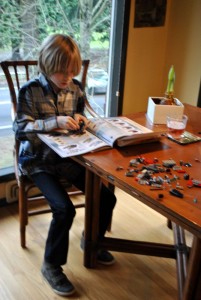 Miles and his latest Lego Star Wars set.
Mia is reading a new book by Richard Riordin about Greek gods.
The little nativity figures up at the top are a gift from Lisa. They were made in Tibet, I think. Very sweet. My favorite nativity set has to be the one the Kristin La Flamme made for me. Well, actually, we did a trade. I love all the details she has put into each figure.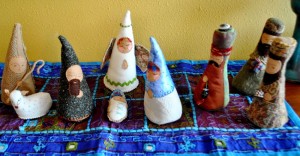 Mr C gave me this beautiful necklace made by a Portland artist, Elaine Tan. I picked it out at our November Artisans sale at Trinity. It has lava beads, green jade and silver.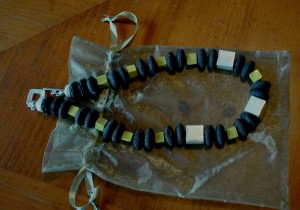 Steph gave me this book by Maira Kalman, And The Pursuit of Happiness. I just love her illustrations. With it is a new apron from Lisa.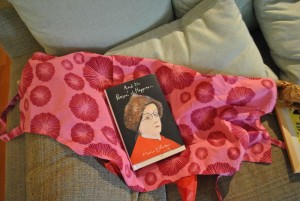 Lisa's partner, Clay, took a wood block printing class a couple of months ago and she made prints of Lisa's dog, Wilfredo. I think she did such a great job and hinted that I would like one. She got it nicely framed for me.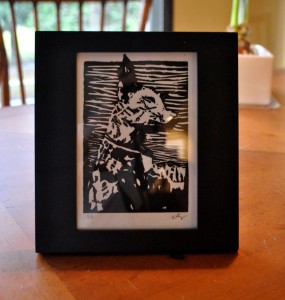 I really enjoyed our simpler holiday. I am feeling tired, but very happy. I had lots of phone time with both Mark and Lisa. I was so tired from the late night and the cooking that I fell asleep this afternoon. I am heading to the studio tomorrow. First thing is to clean up from the coaster making frenzy. Then, I must get my next Twelve X Twelve done. We are delaying the reveal because of the holiday. So look for what we all do on January 12.
I hope your holiday was merry, too.