The next exercise in the Drawn to Stitch book is to add a layer of marks with variety in sharpness, width, shape, etc. I used some red paint and made marks on the black and white woven piece. Then, I almost obliterated the brown and yellow piece.  I am going to cut this one up and reassemble it. The paint was still wet when I took this photo – messy fun.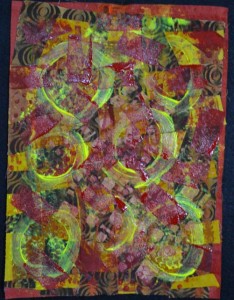 I also printed on the organza water with metallic paints using bubble wrap, a stamp with tiny dots, a sponge and even a fish.The yellow in this photo is really more green than this. Metallic paint is hard to photograph.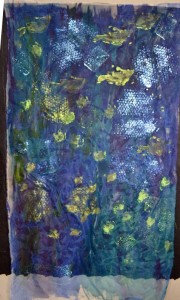 The second piece of organza has more white space which helps when I layer it.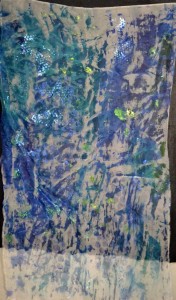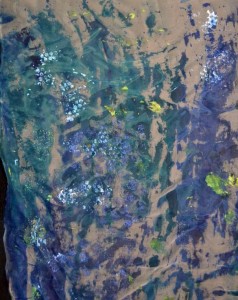 I am anxious to start cutting and piecing this.
I also worked on a panel for the Dream Rocket project.
The Dream Rocket Team is collecting nearly 8,000 artworks from participants around the globe. The artwork will be assembled together to create a massive cover in which will wrap a 37 story Saturn V Moon Rocket at the U.S. Space & Rocket Center in Huntsville, Alabama. We will also be displaying submitted artwork in dozens of national venues prior to the wrapping of the Saturn V.
The panel has to be 2 ft by 2 ft. I had a quilt that I made for an online challenge last year — a black hole. I mounted it on felt that I covered with gold metallic organza to make it the correct size.
I did some stitching on the organza and added some copper foiling to blend with the quilt. I then covered it with Golden Matte Medium. It ended up looking more gray than gold, but it still works. It will be outside in the elements so I wanted to do something to protect it. Definitely not a great work of art, but it was fun and is going to a fun project. Maybe when the matte medium is completely dry, it will look gold again.
With our health care, we get membership in an exercise program called Silver and Fit. You have a choice of facilities. Mr C goes to 24 hour Fitness. I just don't like the mega gyms. So today, I went to the local swim and racquet club which has just started a program. I can take Pilates and yoga and work out on the machines. In the summer, I can use the pool.
I feel as if I am getting back into the swing of things. My energy level is greater and I am having a good time. If I keep throwing paint at stuff, something is bound to stick!!