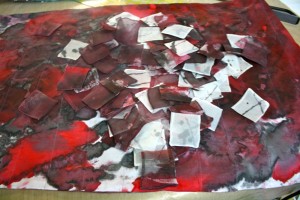 Remember this piece? Beautiful bits of painted organza — total mess of a composition. It now is dismantled and lying in the heap you see above.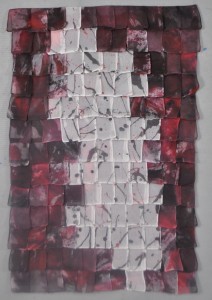 I realized when it was done that the proportions of my little pockets were off. I think they need to be square to get the kind of flow that I have in the other 2 pieces:
So I took it apart and trimmed the pockets and will now reassemble the piece. I am going to change the dimensions a bit, too.
I went to Fabric Depot today to buy a quilt basting gun for attaching the Twelve by Twelve quilts to the felt panels that Terry and I have been working on. She is sick today, but if she is well enough, we will get to work on them tomorrow.
While I was there, I started looking at fabric for a quilt for my great niece Gwen. She has orange, yellow and green in her room. I decided to do polka dots and stripes. The backing will be the white with multicolored dots in flannel.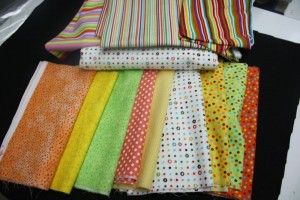 Not sure when I will fit it in, but, sometimes doing mindless piecing is a stress reduce for me.