It was a beautiful day today and so, after church and some mega grocery shopping, I headed to the studio to print some fabric for a special project. (seen above)  I don't have AC there and it is too hot to work there on most summer days.
I found a piece of fabric on which I had done some previous printing – think if was discharged. I used one of my stencils and daubed on some red paint.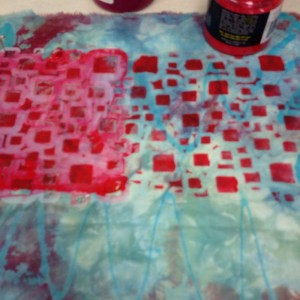 Then, just for fun, I spatter painted with white paint.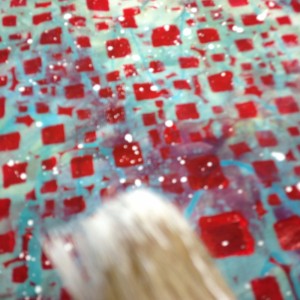 It was fun to spend some time in my studio. I sort of cleaned up from the quilting frenzy for the blue show.
Speaking of the blue show,  the Blue Picasso Woman was juried in but not the sky blue pink piece. I was not surprised. I rushed that and I knew that the dyed cheese cloth was too centered. So, here is my plan. When I get it back I am going to do a major crop on the top and also some on the bottom and redo the flying geese. I think I can get it ready to enter into a different show.
On Friday, Mr C and I drove my 3 quilts up to Tacoma to The American Art Company for the exhibit which opens on August 16th. I had to add sleeves to the bottom with slats so that they will hang better, I guess. It was kind of a pain.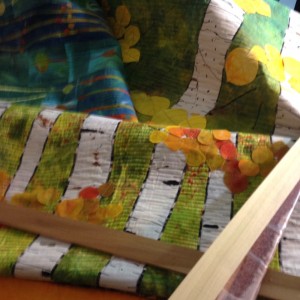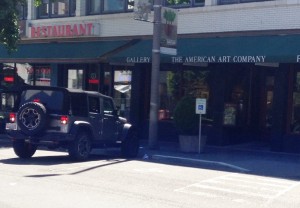 I hope I can get up for the reception on the 16th. The gallery  is very spacious, and I have seen the show in the past and it looked great. Quilt Knit Stitch is happening that week and Kristin LaFlamme, one of the Twelves and my art quilt daughter is coming for the week. She has one of her Army Wife Aprons in a show here in Portland. It was curated by Marci McDade, the SDA Journal editor. Just before that, we are going to CA to hang out with Paige for a few days.
I have 3 exhibit receptions in August! The Simply Red show is opening in Newport down on the Oregon Coast, the Columbia Fiber Arts exhibit, Fiber Inspirations, is opening here in town at the ArtReach gallery and then the exhibit in Tacoma. Pretty cool!