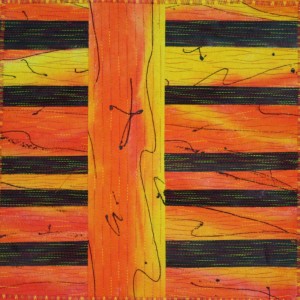 For the orange Twelve by Twelve colorplay challenge, I painted raw silk and silk organza with Dynaflow paints. I loved the fabric so much, I ended up creating two pieces. The above piece was created by cutting strips of the painted fabric and fusing the composition and then machine stitching.
Here is the raw silk fabric that I painted.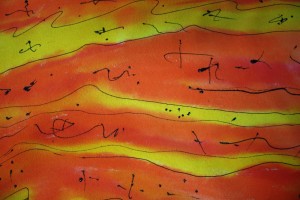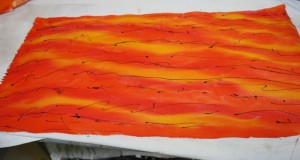 Here is a detail: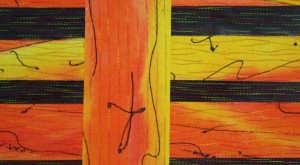 As I was working on this, I kept having a flashback to a memory of something. It finally came to me. When we were a young married couple, Mr C and I fell in love with a certain poster that brought a bit of summer to our Schenectady, NY home. So I have named this piece, Endless Summer.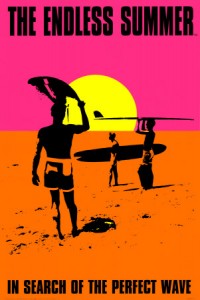 I love painted organza. I have made many pieces with it.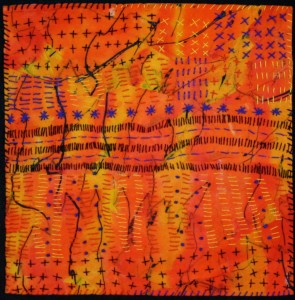 I painted some batting with the orange Dynaflow. I scrunched the organza and pleated it and ironed it and pinned it.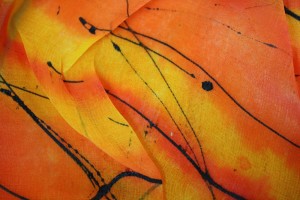 I then started stitching by hand with Perle cotton. I finished it late last night. Whew! I thought perhaps I should name it Insanity, but instead, it has the fun name, Fiesta.
Here is a detail: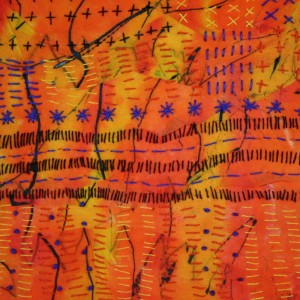 Now, I have to decide which one joins the Twelve by Twelve group. Do you have an opinion?
Reminder: if you haven't left a comment for a chance to win Masters Art Quilts Vol 2, go to yesterday's post and add your two cents. The drawing will be on Tuesday.