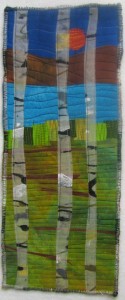 One more Spooner Lake Aspen. Dale Ann really wanted one of my tree pieces so today I whipped up this little piece for her. I like to reach into my batting scraps, pull out a piece and create something to fit. This one is long and narrow. It is about 6 inches by 14 inches. I am really guessing!
As I was quilting this, I thought about how much I love watching variegated thread blend with the hand-dyed fabric. Here is a detail from this piece.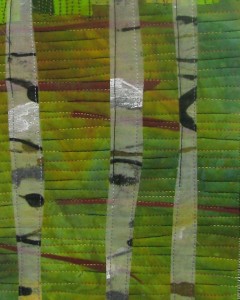 I wanted to get this done for Dale Ann so I can put away the fabric that I have been using and move on to another project that is jelling in my right brain. I plan to get all the Aspens in the post tomorrow.
Don't forget IBOL!! To find out how to send a bundle of love to Iraqi women via Art La Flamme, just click on the logo. Since the 7th is a holiday, you can mail on the 8th, but no later.