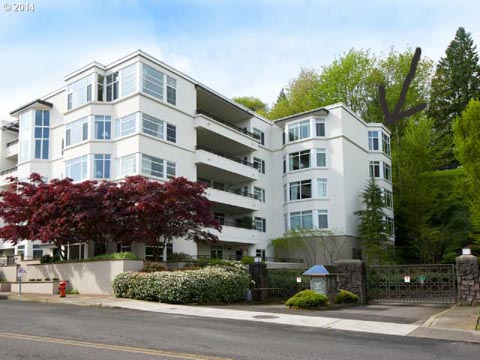 We found our new home. Life has been very crazy around here since I last posted. I had a great time at the SAQA Oregon conference and got some nice feedback on my talk. On Friday, the condo we have been waiting for popped up on our RLMS feed. We got an appointment to see it on Saturday and made our offer which was presented to the seller on Tuesday along with two other offers. We were very aggressive in our offer because this was the one we had been waiting for.  See the arrow up there? Our new home is on the fourth floor, not the top. There is a nice sized deck on the back which overlooks the hillside. We have a view from the dining room area bay windows down to the Willamette river which is east of us.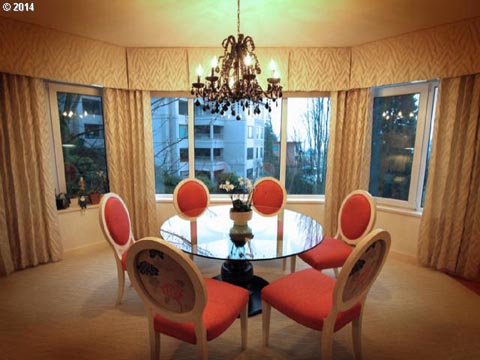 Those draperies and the chandelier have gone with the seller, thank goodness! The place is decorated in a much more formal manner than we  like. We will be ripping out the carpet and putting in hardwoods for the sake of my allergies. The kitchen appears to be recently redone. It is very stylish and modern.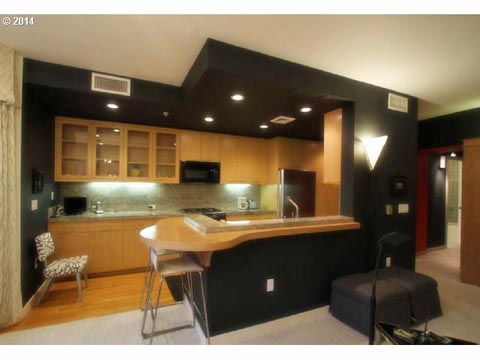 The seller was moving out yesterday and today so it will be a fast turnover. We get to go in for the inspection tomorrow and will do some measuring and have a chance to see it without all the furniture. It has two bedrooms and two baths, a laundry/utility room with a sink and great room adjacent to the kitchen plus a separate storage area. It has a walking score of 94 which was one thing we were looking for. The condo has a gym, meeting/party room which you can reserve free of charge and a library/reading room. We also have two primo parking spots.
Needless to say, we are very happy! So, I have an additional reason to celebrate.
Leave me a comment and have a chance to win a piece of Gericon art. I will select 3 names. First name gets first choice, etc. Here is the art.
Aspens.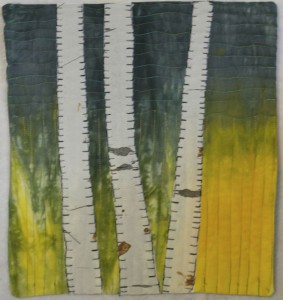 Northwest Winter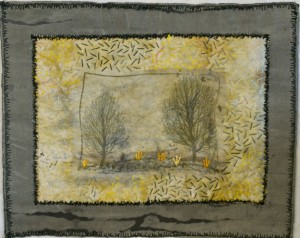 X Marks the Spot.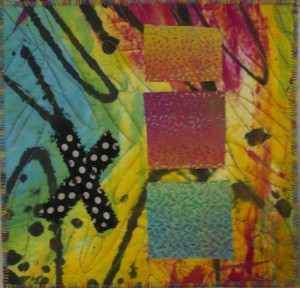 I will randomly select names after we get back from our trip to California for Paige's 2nd birthday. I am finishing her quilt today – stitching the binding. This afternoon, we are going back to see Dan at Toyota for some instruction on all the extras on our Prius. Tomorrow, I have guild meeting in the morning and the home inspection in the afternoon and then dinner with Deborah Boschert, one of the Twelves, who is visiting Portland with her family. On Thursday, we are off to California.
Busy, busy!