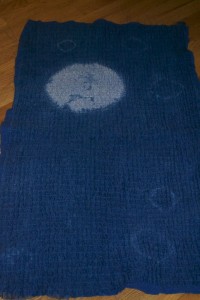 This photo is a bit dark, but it will have to suffice. I stitched the other indigo blue moon to prefelt today and did some shrinking. I was more careful this time. I started the washer on regular wash with hot water and then stopped the machine and reset it to drain and spin after it had tossed around for about 5 minutes. Then I threw it in the dryer. It has a bit of pilling of the blue prefelt, but is not nearly as felted as the last piece. Here is a detail: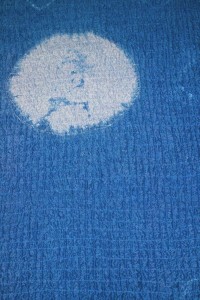 Here is the stitching on the moon before I did the shrinking: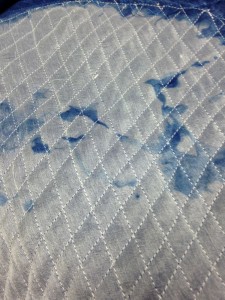 Now, I need to do some hand stitching and get it layered and faced. I also have to decide if I want to try shrinking it a bit more. We shall see.
Yesterday was a bit of a hiatus from studio work. I was doing SDA work, mainly creating some photoshopped artwork for a new Constant Contact newsletter. And, it was our 49th wedding anniversary. It usually falls on Labor Day Week-end, but was later this year. Hear we are, 49 years ago.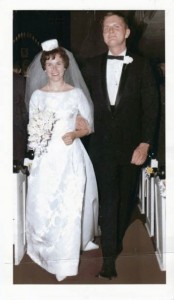 I guess we need to do something special next year! Last night we went to one of our favorite restaurants and invited Steph and Jack to join us. We had a great time. It is always more fun to share good food and wine with others.