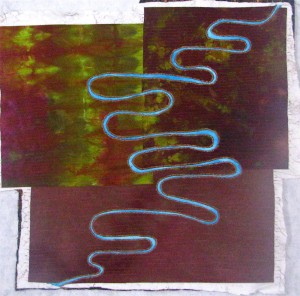 After a false start and several hours of unquilting, I have finished the quilting on Meander. This photo is a little fuzzy, but you get the idea. My original plan was to quilt in curves, following the lines of the river, but it just looked terrible.
This is another in my construction series, and I have basically done linear quilting, sometimes with some waviness, and I realized, to fit my aesthetic, I needed to do that with this piece, even though it meant stopping the stitching at the river for each row. I found some variegated thread that worked perfectly. I used a different thread in the lower portion.
I had originally tried to do a zigzag stitch around the river, but with those deep curves, it did not look good. So I went in with the zigzag and free motion quilted it. I really like the organic look of it. Click on the photo to see a close-up.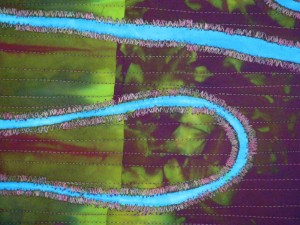 I still have to finish the edges – probably a satin stitch with the variegated thread. Tomorrow night is our meeting when we turn in our quilts. I will be bringing them all home with me as we are doing the jurying of the show at my house next month.
Don't forget to check out the Tote Tuesday 3 auction tomorrow. There is some great stuff to be had!!