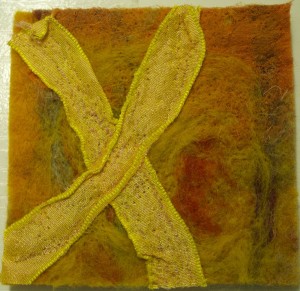 Oh, yes, I was excited about doing the quilting on the Rosales Organ quilt when my Janome decided to quit. I took her in to the Janome dealer and fortunately, I have a 3 year maintenance and repair plan. They told be it could take 10 days to 2 weeks. I put on my nicest smile and sweet talked the repair man into trying for a week. He wrote ASAP on the order. I  told him I had been a Powered by Janome quilter on the Janome web site because I talk about my Horizon on my blog. It might have helped.
In the meantime, I will work on the embellishments for the quilt. The filigree wooden parts and the gold foiled parts for the pipes.
The downside is that I can't machine stitch 3 x 3's. I am doing felting and hand stitching for now. I may convert my Bernina from my felting machine for the time being.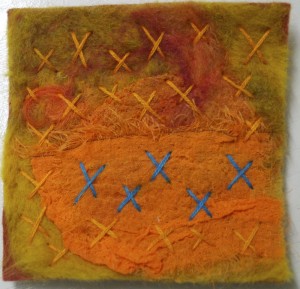 Yesterday, I got up early and drove to Eugene, a 2+ hour drive, for the fall meeting of my Oregon Critique group. Terry was unable to go so I made the trip solo. I stupidly took the wrong aspen quilt, I grabbed the one I took last time we had the critique with the same artist. I did have my Kelp Dance quilt. She really liked it and had lots of positive things to say about my design – good value changes, good repetition, great color combination, etc. Interestingly, she suggested the same changes for this that she gave me for the Aspen quilt last time – pump up the red for more contrast. I think I can go in with some paint and fix some of the areas that she suggested.
I have a really busy week ahead of me. Just so you know!! Sending love and warmth and concern to all my readers in the Tri-state area. I hope things get better for you soon.